Wales boss Chris Coleman read of Bellamy retirement in newspaper
Last updated on .From the section Wales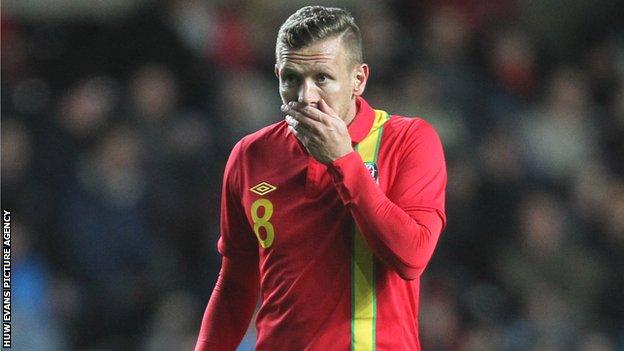 Wales manager Chris Coleman says he first discovered by reading a newspaper.
Cardiff City forward Bellamy will end his Wales career after the World Cup qualifiers against Macedonia on Friday and Belgium next Tuesday.
Although he was not informed directly, Coleman says it comes as no surprise.
"The first time I saw that - I had a feeling anyway - I read it in a newspaper," Coleman said.
"The whole campaign, we never had him at the start, there was other things going on.
"Then he was back in and so I can't say it was a big surprise.
"In the back of my mind I was planning forward, if I'm going to be here, without Craig anyway.
"I think Craig has come out in numerous articles expressing what he thinks, so it was no big surprise when I read it."
Coleman paid tribute to the 34-year-old Bellamy, who has won 76 caps for Wales and scored 19 goals during a 15-year international career.
"He's approaching 80 caps and that's no mean feat," Coleman added.
"It's fitting that the last game [at home] is at Cardiff City [Stadium], I think he's made the right decision to stop now.
"He's put the shift in, he'll get the credit he deserves from the... supporters and that's what he deserves.
"When you're a player you don't look at choosing this game or that game when you bow out, you just know when enough is enough.
"It's not numbers with a player - you don't think "I've got 60 caps, can I get 65?" - you keep coming and you keep coming until you can't perform like you want to anymore."
In the pre-match press conference before facing Macedonia, Coleman also spoke about the clear-the-air talks he had with James Collins.
Coleman had accused the West Ham defender of rejecting the chance to join the Wales squad before their World Cup qualifier with Serbia in September.
Collins had denied that claim, but met Coleman on Wednesday and is now in training with a Wales squad shorn of 11 players through injury.
Coleman said: "James called me when he finished training with West Ham, had a chat on the phone, but the chat we needed to have was across the table.
"He travelled down here, fair play to him, he told me where he was coming from and I told him where I was coming from and I have been public in what I have said.
"He thought he was being singled out, which he wasn't.
"I explained my reasons and he accepted that. He is here for a huge game, he is here and that is all we can ask.
"It doesn't mean we agree on everything, but the important thing is to move forward, and we can, which is the important thing.
"He has his desire to play for Wales, if he didn't want to play he would not have travelled to talk to me and thrash it out.
"When we talked we weren't having a cuddle or a laugh and a joke, but he was here and we told each other what was on our minds."