Neal Ardley: AFC Wimbledon a work in progress
Last updated on .From the section Football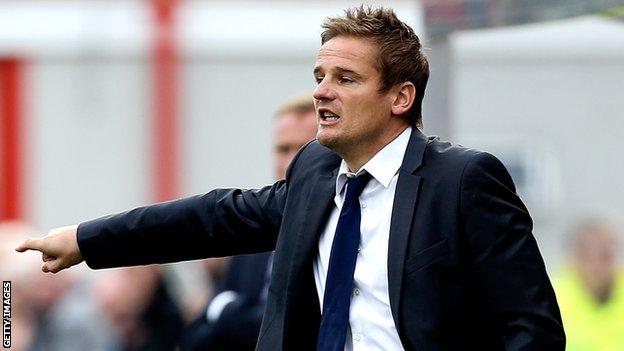 AFC Wimbledon manager Neal Ardley says it could prove difficult for his side to sustain a push for promotion.
The Dons have lost three of their last four games in League Two to slip from third to 11th in the table.
"On the training field and around the place we keep striving for excellence," he told BBC London 94.9.
"We want to be in that top three, but ultimately there is a sense of reality. We can't expect that at the moment. We are still a work in progress."
He added: "I do believe in the squad but I have said several times I think we will be inconsistent.
"We have some youngsters in there and people are still learning how to see out games and how to win different types of games. That doesn't come overnight."
The Dons have lost their last two games in League Two to strugglers Cheltenham and Northampton.
"It is about how you bounce back from your losses," Ardley said.
"We have been quite good at that so far. This is the first time we have had a couple and we are determined not to make it three.
"We have fallen behind in the last couple of weeks through sloppiness and that is what we have got to eradicate."
Wimbledon avoided relegation on the final day of last season and Ardley says he puts a lot of pressure on himself to keep the club improving.
"A lot of stuff has gone on behind the scenes. We achieved what we needed to last season and we are steadily trying to progress," he said.
"There is always expectation. No-one expects my team to do well more than me.
"I am my own biggest critic and I don't need a fan to moan about how the team is playing.
"I will go home, analyse it and take it personally when it is not working.
"I leave no stone unturned and take defeats to heart. But I have to bounce back with a smile on my face when I come in."