2014 World Cup: Huge ticket demand for Brazil tournament
Last updated on .From the section 2014 Fifa World Cup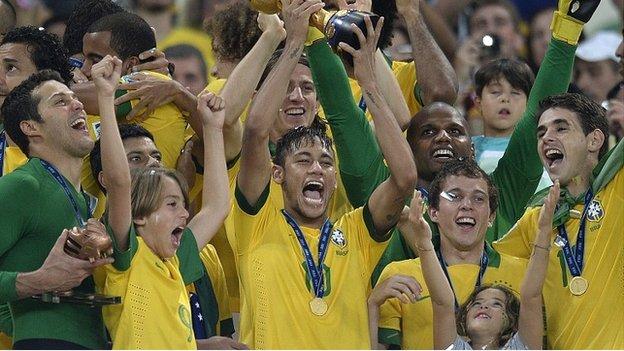 Fifa will hold a random draw to allocate 2014 World Cup tickets after six million applications were made, almost double the total available.
A total of 6,164,682 requests came in from 203 countries, with more than 70% from the host nation Brazil, Fifa said.
Brazil's first fixture had 726,067 requests and the final 751,165, with 80,000 seats free for each match.
Tickets not allocated will be available on a first-come, first-served basis from 5 November.
Fans will be allowed to buy tickets again on 8 December following the World Cup draw, with the opening game in Sao Paolo on 12 June 2014.
The final will be at the Maracana in Rio de Janeiro on 13 July.
Nearly 4.4m ticket applications came from Brazil, with 374,065 from the United States and 96,780 from England.
Organisers expect a total of nearly 3.3 million tickets to be available for the first World Cup in Brazil since 1950, but only about one million were offered in the first phase.
One million requests were made in the first seven hours after the sales opened in late August, and another one million requests were made in the past week.
Each applicant could request for up to four tickets per match for a maximum of seven of the 64 matches.
Nearly 800,000 fans attended the Confederations Cup in Brazil this year, with ticket sales easily surpassing those for the tournaments in South Africa in 2009 and in Germany in 2005.