Jack Wilshere comments 'unhelpful and misguided' - Lunat
By Shamoon Hafez
BBC Sport
Last updated on .From the section Football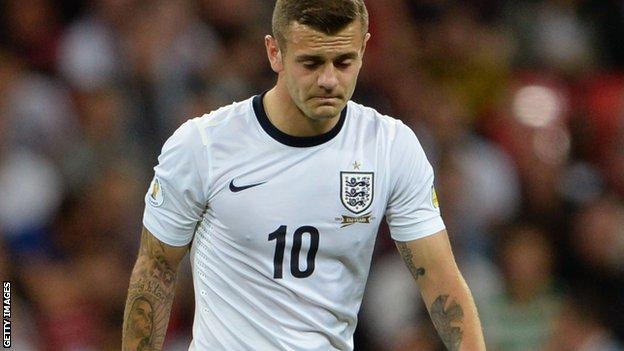 Jack Wilshere's comment that only English people should play for England was "unhelpful and misguided", says the chairman of the Football Association's race equality advisory group.
Yunus Lunat says Wilshere needs to clarify his views on the issue.
Wilshere spoke out after England boss Roy Hodgson said he was monitoring Belgium-born midfielder Adnan Januzaj.
"Wilshere is entitled to his opinion but needs to be clear in his definition of 'English' players," said Lunat.
The 21-year-old Wilshere, who has 10 England caps, said his comments were not in reference to Manchester United's Januzaj, who could qualify for England in the future by residency.
"If you live in England for five years, it doesn't make you English," said the Arsenal midfielder.
"We have to remember what we are. We are English. We tackle hard, are tough on the pitch and are hard to beat."
Attempting to clarify his original remarks, he later tweeted: "To be clear, never said 'born in England' - I said English people should play for England.
"My view on football - going to a new country when you're an adult, and because you can get a passport you play for that national team - I disagree."
Lunat, who replaced Lord Herman Ouseley in March, told BBC Sport: "He should be given an opportunity to come back and explain what he meant. He has opened up that can of worms.
"The sort of players that are representing our country - and are likely to in the future - are those that have made this country their home, so why should they not represent England?
"He seems to be saying that a lot of these players are not capable - both from a competency point of view and through qualifications - of playing for England. At the moment, it is very unclear and I find it uncomfortable."
Manchester United's Wilfried Zaha, born in the Ivory Coast, and Jamaica-born Liverpool winger Raheem Sterling have both featured for England recently.
The under-21 squad also features Burundi-born striker Saido Berahino, who scored West Brom's winner in a recent Premier League game against Manchester United at Old Trafford.
Lunat, the first Muslim member of the FA council, also expressed concern that Queens Park Rangers manager Harry Redknapp, who was in the running for the England job after Fabio Capello quit, backed Wilshere on the issue.
"I wonder whether Harry Redknapp would have said the same things had he been selected to manage England," said Lunat.
"If those are his honest views, then it calls into question whether he should be manager of the national team because he prefers to apply another criteria to what the rules of the game are."