La Liga chief: Eight to 10 Spanish matches 'fixed each season'
Last updated on .From the section European Football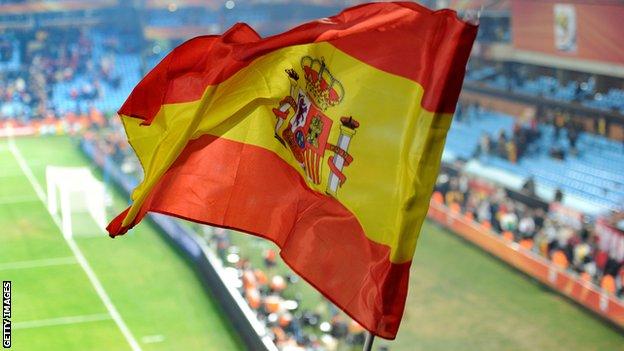 Spanish league president Javier Tebas says that at least eight matches in Spain's top two divisions are fixed each season.
He said: "Between the first and second divisions, around eight to 10 games have been manipulated [per season].
"If they do not eradicate it immediately, the infection will grow."
Tebas, who is in charge of Spain's top two flights, also told the Leaders in Football conference event in London, through a translator, that he believed the main problem was coming from an international mafia.
"It sounds easier for players with financial problems to be corrupted but we cannot generalise it," he added. "It happens also with players who earn a lot of money, who are comfortable but I am trying to eradicate the black sheep in La Liga.
"If we do not eradicate now, it will become like the Wild West with no laws, no control."
In May, Deportivo La Coruna president Augusto Cesar Lendoiro claimed match-fixing was widespread in Spain after the Spanish Football League said it was investigating his side's win over Levante in April.
Lendoiro has denied his side rigged the result of the game.
But Tebas believes that there needs to be severe punishments for those found guilty.
"If a player, coach, director has been directly involved, he will have a lifetime ban," added Tebas. "If he knows about it but doesn't participate and doesn't tell the authorities, he will have a three-year ban."
His remarks come after the head of the international police organisation Interpol told the BBC World Service that law enforcement agencies around the world are behind in the battle against match-fixing.
Secretary General of Interpol Ron Noble said that so pervasive and sophisticated are the techniques of the worldwide betting syndicates, it is impossible to know how deep the problem now goes.