Gary Lineker criticises 'pointless' FA commission members
Last updated on .From the section Football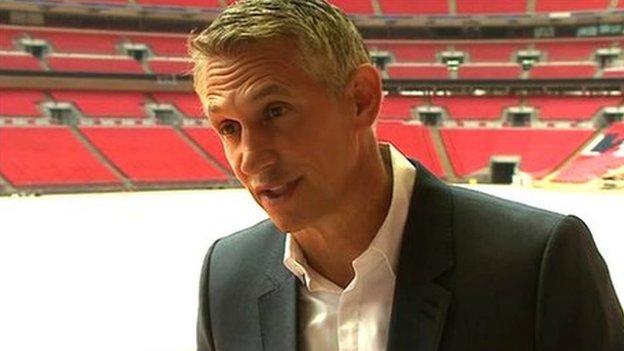 Former England captain Gary Lineker says most members of a new Football Association commission to improve the national team are "utterly pointless".
Eight people, including former England boss Glenn Hoddle, will assist new FA chairman Greg Dyke on the panel.
"No wonder they announced Hoddle early on. Most of the others are utterly pointless. Expected better from Greg Dyke," said Lineker on Twitter.
Ex-England star Danny Mills, who is on the panel, urged Lineker to contribute.
"Rather than the sanctuary of the Match of the Day studio, come and put your ideas on the line," Mills told BBC Radio 5 live.
"Gary's quite welcome to his own opinion of course, but I think when you get that situation - has he volunteered himself?
"Has he come down to the FA? Has he phoned up Greg Dyke and said 'look, you know I am one of the greatest England players that ever played, I have some ideas'?"
Dyke says the line-up of the commission is not yet complete.
The FA chairman is joined by former England manager and player Hoddle, ex-Manchester City defender Mills, former Leeds boss Howard Wilkinson and FA vice-chairman Roger Burden.
Football League chairman Greg Clarke, new Professional Footballers' Association (PFA) chairman Ritchie Humphreys and Crewe director of football Dario Gradi have also been named on the panel.
Its focus is to increase the number of England-qualified players appearing for the country's top clubs and improve the England national team.
Mills added: "This is voluntary don't forget. This is because I care about football, I care about the future of football. I care about the way my kids play football and of course I care about the England team.
"Some people say it's a cop out from Greg Dyke by bringing people together. But surely if he did this on his own everyone would point a finger and say 'what experience does he have of junior football, what experience does he have as a player, what experience does he have as a manager?'
"What he is doing is getting a collective group of people together with lots of information and experiences behind them and trying to take the best ideas from them and move forward."
Lineker, the BBC's Match of the Day presenter, indicated former internationals Chris Waddle, John Barnes and Gary Neville would be "apt" choices for the panel.
The PFA's representative, Chesterfield striker Humphreys, said he hoped to draw on the experience and diversity of the association's members.
"We would be daft not to tap into that wide variety of knowledge," the 35-year-old former Sheffield Wednesday and Hartlepool player told BBC Radio 5 live.
"We have a common ground. We are a very diverse organisation and just want the national team to improve."
Last month, Dyke set England targets of reaching the Euro 2020 semi-finals and winning the World Cup in 2022.
English footballers account for less than a third of all the minutes played in the Premier League, according to a State of the Game study published by BBC Sport on Thursday.
The figure for home country players - 32.26% - is down from 35.43% in 2007-08 and is significantly lower than all other major European leagues according to football statisticians Opta.
Lineker was joined by former England striker Stan Collymore in criticising the FA panel's make-up.
"The FA commission. Dario Gradi should have been asked 20 years ago but he's 72 now. Wilkinson 70. Is that really vibrant and fresh?" said ex-Liverpool and Nottingham Forest striker Collymore on Twitter.
Meanwhile, former England defender Sol Campbell has criticised the lack of diversity, with eight white men on the panel.
"I wouldn't mind if they had some black players in there, black players who have actually done something for club and country," Campbell told BBC Sport.
Hoddle has suggested a nationality quota system should be employed in the Premier League - an idea backed by PFA chief executive Gordon Taylor - and called for all concerned to be "ruthless" in the quest to improve chances of success at international level.
The Premier League says it will help the commission, but has so far rejected the chance to have an official representative on the panel.
Everton's chief executive Robert Elstone has insisted top clubs are not the source of all England's failings, but rather a strength.
He argued the number of foreign players in the English top flight meant youngsters had to raise their game to compete at an elite level with the world's top players - so the system was producing better young players.
"How many great players do we actually need to win a World Cup? The Belgians might do it with 15? Maybe it's time to think quality and not quantity?" wrote Elstone in a blog on the club's website.
"Our English talent looks over its shoulder every day. They have players from all over the world chasing their livelihoods. Where better to get the 20, 30 or 40 players we need to fight with the best in the world at a national level?"
He cited the Premier League's Elite Player Performance Plan in bringing through players such as Everton and England midfielder Ross Barkley.