FA Cup: Gainsborough hit out after losing appeal against expulsion
Last updated on .From the section Football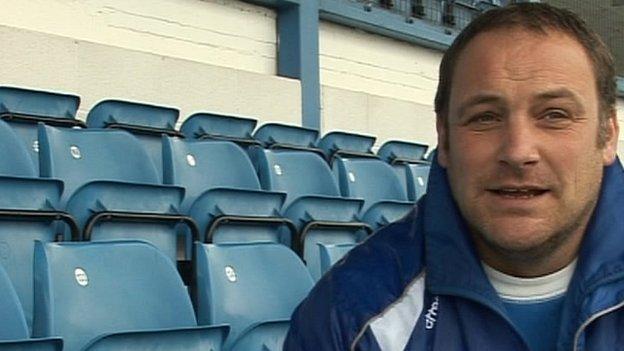 Gainsborough Trinity boss Steve Housham has accused the Football Association of double standards after the club lost its appeal against being thrown out of the FA Cup.
Gainsborough argued that Bradford City were reinstated for a similar error.
"We had the ruling of Bradford City, who did the same thing, and it has not come through for us," Housham said.
"We had all the paperwork, the evidence and believe we won fairly on and off the pitch."
The Conference North club were found guilty of failing to correctly register on-loan Lincoln City striker Jordan Thomas before their win over Rushall in the second qualifying round last month.
The Pics were reinstated in Gainsborough's place and will meet Stockport in the third round on Saturday.
Gainsborough presented evidence that the Football Conference and the Imps both received loan forms via email on Friday, 27 September.
Trinity said in a statement on their website: "Being removed from the FA Cup in this manner really hurts, not just only for our supporters but for players and all the people that work hard as volunteers helping the club to be a big part of the town and non-league football."
Housham now hopes his team can harness the disappointment of their FA Cup exit and focus it on league success.
"Right now, it is a case of what do we do because we should be preparing to meet Stockport?" Housham told BBC Radio Lincoln.
"This will hurt the players because the FA Cup is a massive competition.
"Now at the end of it all, we have to come out stronger and push on in the league."
Gainsborough are 14th in the Conference North table with two wins from 10 games.