England 4-1 Montenegro: Will Roy Hodgson dare to be bold again?

By Phil McNulty
Chief football writer
Last updated on .From the section Football888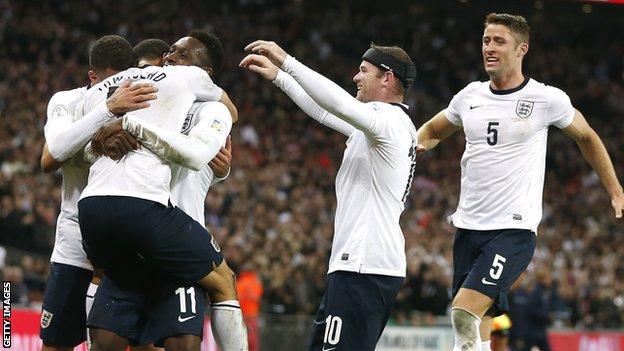 Roy Hodgson blew the dust off Admiral Horatio Nelson's old "England Expects" line to sum up the nation's mood as Montenegro lay in wait at Wembley with World Cup qualification at stake.
England were expected to beat Montenegro to leave one last obstacle standing between a place in Brazil next summer. And Montenegro were beaten, just as convincingly as the 4-1 scoreline suggests.
What England did not expect, certainly not those of us harbouring the belief that manager Hodgson's default option in the important moments was always conservatism, was the attacking abandon with which the result was achieved.
And what England did not expect was for Hodgson to turn gambler at this crucial moment in England's World Cup campaign, a journey towards South America not exactly illuminated by tactical or footballing fireworks.
For this Hodgson, who was the target for justified criticism after a sterile approach to England's deadly dull draw in Ukraine in September, deserves great credit and praise.
The task set out before England's manager was clear.
England needed to beat Montenegro to bring it all back to a familiar place - requiring victory over old adversaries Poland at Wembley on Tuesday to secure qualification for Brazil, reviving bitter memories of October 1973 and goalkeeper Jan Tomaszewski's one-man barricade between Sir Alf Ramsey's side and their place in the following summer's World Cup.
Hodgson cast off his cloak of caution in search of the victory. And the symbol of this bold streak Hodgson has often kept well hidden came in the shape of Tottenham's Andros Townsend, the shining star of a fine England display.
While the reliability of James Milner must have tempted Hodgson, as well as the possibility of finding a place for Jack Wilshere or Michael Carrick, he went for 22-year-old Townsend and was amply rewarded.
As part of an attacking quartet that also included Wayne Rooney, Danny Welbeck and Daniel Sturridge, Townsend was a revelation.
He helped set up Rooney's tension-releasing opener after 49 minutes and just as nerves started to jangle when Montenegro pulled it back to 2-1, he eased Wembley's worries with a magnificent swerving 25-yard strike to settle matters.
Hodgson's dance of delight in the technical area not only celebrated the confirmation of victory but may also have been recognition of an attacking move plenty of us wondered if he had in him.
He warned about the perils of England going "gung-ho" at their Hertfordshire headquarters on Thursday. This was not gung-ho - but it was probably as close to it as a Roy Hodgson side will ever get.
This was England on the front foot and playing their shots. Not a safety first, straight bat on show in Kiev.
If Hodgson had got it wrong on Friday he knew what would have awaited him. It made the call on Townsend even more noteworthy. Hodgson has been criticised for a perceived dour approach in the past, therefore it is only right to praise him when he changes tack with such impact.
Of course with such decisions and an alteration in what seemed to be natural instincts, especially when it works so well, comes a dilemma.
This was a team picked and sent out to win. A similar result is required against Poland - no-one should bank on anything other than Ukraine thrashing San Marino - so will Hodgson repeat his bravado?
Poland, albeit with nothing to play for, are a more dangerous side than Montenegro because they have the menace of Borussia Dortmund's outstanding Robert Lewandowski.
But Townsend must play on Tuesday and the other parts of England's attack showed enough promise to suggest they can finish off a job that is only half done after Montenegro were beaten.
The Spurs winger was direct, skilful, fearless - and from the first whistle. This was not a slow-burning performance. He was an instant threat and any fears that the Wembley stage might cause him to shrink were unfounded.
He certainly won the approval of Hodgson, whose performance in the technical area was equally energetic at times in the second half. He accepted he needed a "marquee" result in a big game and while Montenegro are not exactly a superpower, this will have done for starters.
Hodgson will have to make a change at right-back with Kyle Walker suspended, so the main questions remain about whether he will alter his midfield or attack to combat Poland's strength.
There was a spring in the step of England and their fans as they left Wembley on Friday although as one observer stated with tongue in cheek: "Only need to beat Poland now. What can possibly go wrong?"
Plenty, actually, if England are not on their guard. There have been ordinary performances in this qualifying group and another one could make Tuesday a night of nerves and lead into the World Cup play-offs.
Poland may have nothing to play for but this could bring added freedom to their game. Remember Croatia playing at Wembley in the final qualifier in 2007 having already reached Euro 2008? These are lessons of the past that will be remembered.
And almost 40 years to the night since Tomaszewski kept England at bay there will be other echoes from history swirling around Wembley.
Surely, though, after the success against Montenegro, Hodgson will feel it is no time to step back with a place in Brazil now so close.
Fortune favoured Hodgson's bravery on Friday. Now he and England must take the final step.