Craig Bellamy passed up Wales penalty chance against Macedonia
Last updated on .From the section Football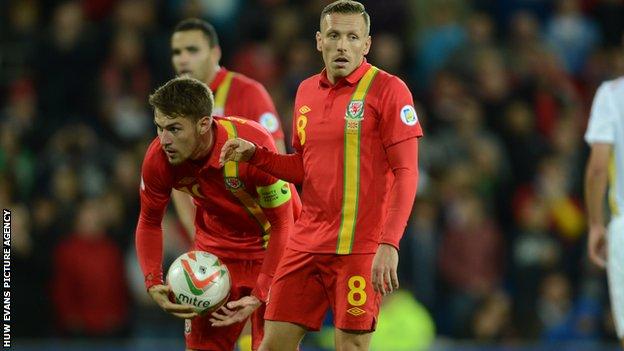 Wales striker Craig Bellamy says there was no place for sentiment as he passed up the chance of taking a penalty in the 1-0 win over Macedonia.
Aaron Ramsey rather than Bellamy stepped up to take a late penalty, which was saved by Tome Pacovski.
"There's no sentiment in football," Bellamy said. "Aaron's going to take penalties for his country so he needs to take them now."
Arsenal midfielder Ramsey revealed he had offered the Cardiff City forward the chance to take the penalty.
"Craig did come up to me and I did offer it to him and he said 'You're captain now, you can take it'," Ramsey said.
"But I wish I did give it to him now."
Ramsey, skipper in the absence of Ashley Williams, had scored from the penalty spot in Wales' 2-1 defeat by Macedonia in September.
Wales were leading 1-0 when they were awarded the penalty after Ramsey was brought down.
"It probably did him good to miss as well because he's taken a few which he's scored. He's the future of this country," Bellamy added.
"For this group to go and qualify [for a major tournament], and hopefully fingers crossed that will be the case, he needs to put himself in as many situations."
Bellamy, 34, and Ramsey combined for the only goal of the game, scored by Charlton's Simon Church.
And Bellamy described Ramsey as an "incredible player" and said the ex-Cardiff man was an important part of the national team's future.
"He's quality throughout and he's Welsh so we're very fortunate," Bellamy said.
"The football he's playing at the moment is remarkable. He's an incredible player so hopefully we'll be able to enjoy it for a lot of years.
"I'm his biggest fan and I just adore him."
Bellamy escaped picking up a booking which would have ruled him out of Tuesday's final 2014 World Cup qualifier against Belgium in Brussels.
The former Liverpool and Manchester City star will end his Wales career against a side who qualified for the World Cup finals on Friday with a 2-1 win in Croatia.
"With the talent they have, they or Croatia were going to be the ones to beat in this group," Bellamy said.
"We knew they were going to be the front-runners and credit to Belgium.
"It's going to be great for us to get there and be part of that and try and do as well as we can."