Exodus Geohaghon released by Worcester after FA Cup snub
Last updated on .From the section National League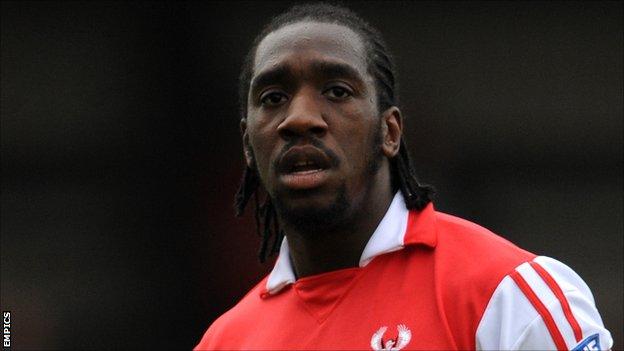 Worcester City defender Exodus Geohaghon has been released by the Conference North club for refusing to play in the FA Cup.
Geohaghon, who joined on 7 September, was selected for the third qualifying round tie against Rugby on Saturday.
But he did not want to play as being cup-tied may have proved an obstacle to a move to another club.
"Commitment from every player has to be 100%. If it isn't they will be moved on," said City manager Carl Heeley.
"Exodus would not commit to playing in the FA Cup as he did not want to be cup-tied in later rounds should another club sign him.
"Whilst I understand his decision to a degree, my priority is the team and getting through to the next round."
Geohaghon's departure from Aggborough, where City now play, is a case of history repeating little over a year on from his last sharp exit.
He also left Aggborough on August deadline day 2012 when he departed Kidderminster Harriers after just three matches to sign for Mansfield Town.
Geohaghon, 28, who had previously played non-league football in Worcestershire for Bromsgrove Rovers and Redditch United, made just six appearances for struggling City, finishing on the winning side just once.
He missed the 4-0 second qualifying round win over Coventry Sphinx a fortnight ago, because of an Achilles problem but returned last weekend when City lost 4-0 in the league at Stockport.
Geohaghon, who had scored two goals in six appearances for Worcester, is the second centre-half to leave the club in quick succession following the release of Ashley Walker.
But the club have made one signing, bringing in 18-year-old Birmingham City striker Reece Hales, who has arrived on a month's loan.