Egypt told by Fifa to guarantee security for play-off
Last updated on .From the section Football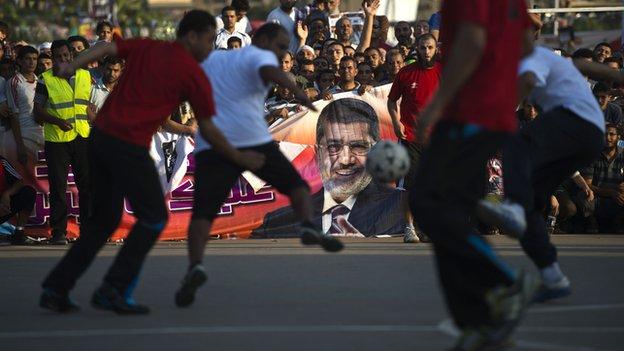 Egypt have been told by Fifa to provide security guarantees following Ghana's request to move next month's World Cup play-off out of Cairo because of safety fears.
Ghana host the first leg of the play-off on Tuesday in Kumasi and the return is set for 19 November in the Egyptian capital, with the winners qualifying for next year's finals in Brazil.
The Black Stars have asked world football's governing body to switch the 19 November second leg to a neutral venue.
And Fifa has responded by giving the Egyptian Football Association a 28 October deadline to provide comprehensive security assurances for the match.
Fifa said it would consider switching the venue if they are not satisfied with the security plans.
"Although all our hopes and wishes sincerely expect that the security situation (in Egypt) will go back to normal in a definite manner we would need to consider alternatives in the event that this were not the case in November," Fifa general secretary Jerome Valcke wrote in a letter to both associations.
"We will keep monitoring the situation."
There has been political and social unrest in the North African country since President Mohamed Morsi was overthrown and outbreaks of violence have been frequent.
The Ghana Football Association wrote to Fifa on Monday, saying: "We are seriously concerned about the security and safety of our delegation and spectators if the match would be played in Egypt.
"Events in the country pointedly indicate that our delegation could be exposed to danger as the violence and insecurity in the country continues relentlessly.