Kris Boyd hails Kilmarnock squad unity despite off-field protests
Last updated on .From the section Football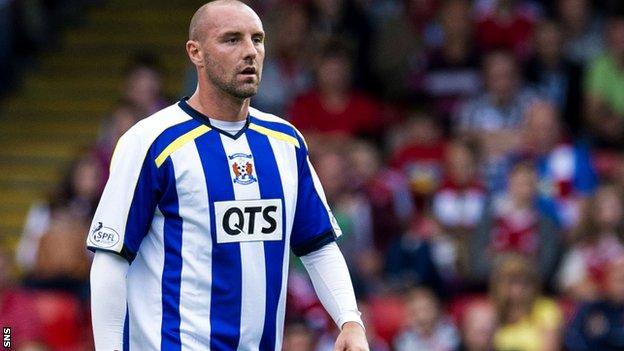 Kris Boyd says the Kilmarnock players remain united and that chairman Michael Johnston is a "good guy".
"It's difficult when you've got more fans outside shouting at the chairman than you have inside," the Killie striker told BBC Radio Scotland.
"But the boys are all together and the training's been brilliant."
Johnston, whose club has debts of more than £9m, this week announced investment of £1m from local businessman Billy Bowie.
That news came just before a meeting in Kilmarnock's Grand Hall, where almost 500 fans agreed to set up the working party to pursue community ownership.
"It's a difficult situation at the club right now," Boyd said.
"I think it's well documented, I think the banks are probably running the show.
"But if the chairman wasn't doing a good job I think he'd be out by now, because I think the bank would've pulled the plug on it a long time ago. So he's obviously doing something right.
"He's a genuine guy, he's a good enough guy who you can speak to and have a conversation with. At the end of the day he's got tough decisions to make upstairs.
"There's obviously been problems between the chairman and the fans, but as players we just want it sorted so that we can have a stable club and go forward."
Boyd, 30, says he is "loving" his second spell at the East Ayrshire club despite them languishing second bottom in the Scottish Premiership with three points from a possible 27.
And he hopes the team, managed by Allan Johnston, can make the most of upcoming home games against Ross County and Hearts.
"Obviously we need to win a couple of games and win them quickly," added the former Rangers and Scotland forward.
"We know the next two games are massive. We played a game this morning [Saturday] and it [the passing] was short and sharp and the boys were buzzing.
"The place is positive, but for some reason we haven't had the result on the pitch yet. We need to rectify it, hopefully next Saturday."