Ballinamallard boss Anderson angered by Rouse red card
Last updated on .From the section Football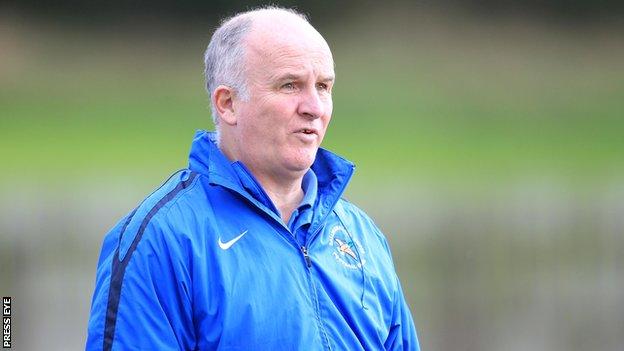 Ballinamallard United manager Whitey Anderson was left infuriated by the early red card handed out to his goalkeeper Alvin Rouse as champions Cliftonville won 2-0 at Ferney Park.
Anderson labelled the decision of referee Colin Burns as "shocking" although the official defended the sending off after the game.
"The referee has killed the game after seven minutes," said Anderson.
However, Burns insisted that he had been left with "no alternative".
"The attacking player (Joe Gormley) was going through on goal. Rounds the goalkeeper. He is unfairly challenged by the goalkeeper and he is brought to the ground," said referee Burns.
"In my opinion, he is denying a goalscoring opportunity and I had no alternative but to send the goalkeeper off."
However, Anderson had a very different perspective on Rouse's seventh-minute dismissal.
"When the ball was played through, he (Rouse), got a touch on the ball," insisted the Ballinamallard boss.
"He simply made the save to his right-hand side. Joe Gormley's momentum carried him on and they clattered with each other.
"How does Alvin get sent off for that? It's beyond me."
Anderson claimed that his team have regularly been on the wrong end of big decisions against "Belfast teams" in their 15 months in the Premiership.
"You can't turn around and say we have a chip on our shoulder down here and maybe we have but the reality is that referees don't deal with the Belfast teams they way they deal with the country teams.
"These referees are getting paid big money. It takes a lot of money to run football clubs. A lot of money for this small country club to play in the Premier League and it's important that we stay in the Premier League.
"I think had that happened in Belfast to the Cliftonville goalkeeper, that decision wouldn't have been made."