2014 World Cup: Uruguay scrambling to qualify for Brazil
Last updated on .From the section World Cup207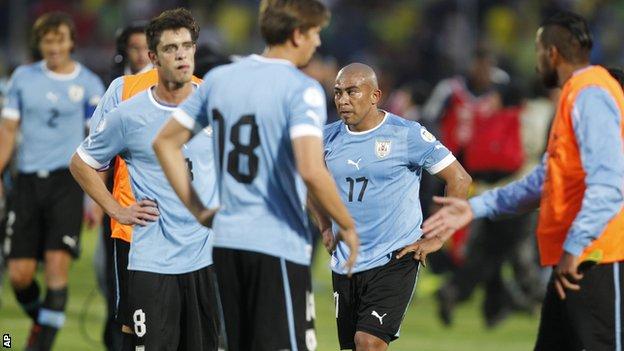 Normally, going into the final round of South America's marathon World Cup qualification campaign, fans across the continent are clutching a calculator in one hand and the phone number of a cardiologist in the other.
There is almost nothing left to be decided. Argentina and Colombia have already booked their places in Brazil next year, with Ecuador and Chile poised to join them.
Uruguay - for the fourth consecutive campaign - appear destined for the play-off spot after a 1-0 defeat in Ecuador on Friday.
"I don't share the view that the play-off is an unworthy route to reach the World Cup," said coach Oscar Washington Tabarez. "We made it to South Africa that way in 2010 and ended up finishing fourth. We're not going to the World Cup through the window or the back door."
Tabarez added he would have to start thinking about Jordan, the play-off contestants from Asia, while the Montevideo press has been quickly carrying out some homework on next month's likely opponents.
But a small chance remains that Uruguay might qualify automatically, a scenario for which two things are necessary in Tuesday's final round.
Firstly, Uruguay must win at home to Argentina. Secondly, there must be a clear winner in the Santiago meeting between Chile and Ecuador.
If the margins of victory are sufficiently wide, then Uruguay would be level on points with the losers in Santiago, and could still come out on top on goal difference. It would entail overturning a six-goal deficit against Ecuador, or a four-goal gap to the Chileans.
It is, clearly, a thoroughly unlikely outcome. It is only remotely possible because a theme has run through the campaign; in general the top teams attack better than they defend.
Uruguay, stubbornly pragmatic, have realised this. A disastrous run of results at one stage made the play-off place look beyond them.
Tabarez and his team have pulled themselves out of that predicament by acknowledging their own limitations. Starting with the crunch visit to Venezuela in June, they have pulled their defensive line deep, to protect the lack of pace of their centre-backs, especially captain Diego Lugano.
Previously they were leaking all over the place, but in the last four tough ties they have conceded just two goals - and left plenty of space to spring Liverpool's Luis Suarez against terrified defences.
It will be fascinating to see how Argentina cope with him on Tuesday. Coach Alejandro Sabella admits he is worried by his own defensive unit. In large part, this is a consequence of the characteristics of the players at his disposal.
This has been the campaign where Lionel Messi has finally reproduced club form for country. The team is set up for him, with the strikers (Sergio Aguero and Gonzalo Higuain) thrown wide to stretch opponents. With these three, plus Angel Di Maria in a midfield trio, the side is built to attack; the price being the flanks are left very open.
Sabella stuck to his system in Friday's 3-1 win over Peru even without the injured Messi, Higuain and the midfield axis of Javier Mascherano and Fernando Gago. There was plenty to admire in the team's attacking play, but once again they were very vulnerable down the wings.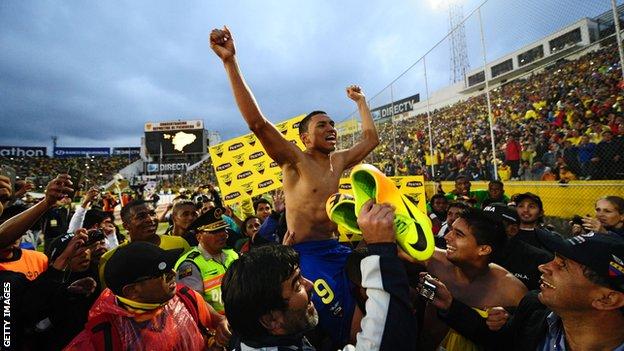 Peru even went ahead when a single pass took out the entire Argentina defence and played in Claudio Pizarro to score. Suarez will surely expect to cause them some serious problems.
Backed by a packed crowd in the Centenario stadium, a Uruguay win is certainly possible - in which case everything will depend on the result in Santiago.
Chile, under coach Jorge Sampaoli, are a bit like Argentina; the balance of the team is emphatically tipped towards attack, and their defensive resources are nowhere near as rich in talent as their forward line - hence the fact Cardiff City midfielder Gary Medel's combative qualities are, more often than not, employed in the backline.
They have struggled in the recent past with the pace and physicality of Ecuador's wingers. In front of their own fans, though, the probability is Chile will seek to impose themselves on the game and cause plenty of problems for the Ecuador defence. And in full flight, there are few more attractive sights in the international game than Chile pouring forward.
Context is all in their favour. The campaign has contained 39 home wins to just 12 away, and Ecuador have not won a single game on their travels. Moreover, the current Ecuador side lack a single top-class defender.
Ivan Hurtado, the wonderfully elegant centre-back who held the defence together in their World Cup campaigns of 2002 and 2006, has never been adequately replaced. With Chile looking to celebrate in style in front of their own fans, it should be quite a night.
If Uruguay win by two goals and Chile by four, then Ecuador will have to settle for the play-off and Uruguay will be through automatically. It is unlikely - but it cannot be dismissed as impossible, and it at least means there is something to play for in the last round of South America's World Cup qualifiers.
Leave your comments in the space provided. Send questions on South American football to vickerycolumn@hotmail.com and I'll pick out a couple for next week.
From last week's postbag;
Q. A quick question on my favourite Peruvian, Nolberto Solano. Last I heard he had left his position as coach of Universitario in spite of a respectable run of results. Is he still trying to cut his managerial teeth in his homeland? Do you think he would ever consider a coaching role in the UK?
Felix Cohen
A. He was probably a bit harshly treated at Universitario, Lima giants who were in such a disastrous financial position last year that Solano was forced to play lots of youngsters. Earlier this year, he had a short - and very unsuccessful - spell in charge of Jose Galvez, a smaller Peruvian team from Chimbote up the northern coast.
I don't know for sure, but I imagine the idea of coaching in the UK might be attractive to him - the job security is a bit better than in Peru.
Q. As a Manchester City fan, I'm curious as to how Fernandinho's chances of a Brazil call-up are faring. He's been a regular player at City since the start of the season and has Luiz Felipe Scolari taken notice at all? Time is running out by my reckoning...
Old Mother Hell
A. He's probably feeling as if he's in some kind of international purgatory. You're spot on - time is indeed running out, and it's going to take something very special (or a run of injuries) to get him into the picture. He's never figured as a regular squad member at senior level - paying the price for coming through at a provincial club (Atletico Paranaense) and spending so long in Ukraine. He's clearly behind Luiz Gustavo in the pecking order, Lucas Leiva has just been recalled and there is young Fernando, who was in the Confederations Cup squad and has since taken his place at Shakhtar. With so few Fifa dates before the World Cup squads are named, it's going to be very difficult for him to force his way in.