Dave King: I want Ibrox return as Rangers chairman
Last updated on .From the section Rangers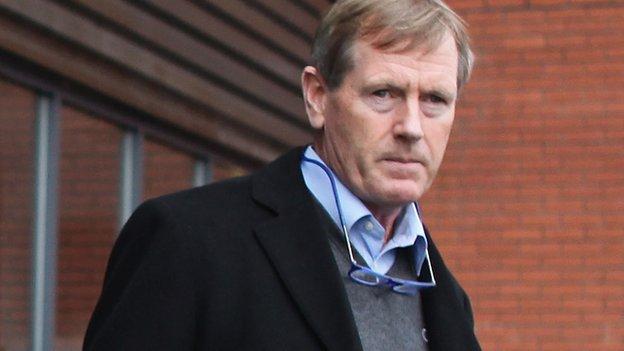 Former Rangers director Dave King wants to lead the club's return to the top tier of Scottish football.
King invested £20m when Sir David Murray was owner but lost that money in the financial meltdown at Ibrox last year and has faced tax issues in South Africa, where he is based.
He has now agreed to pay £44m to the country's Revenue Service, as criminal charges against him were dropped - a settlement he claims "removes any impediment" to him being appointed to the board.
The appointment would have to be ratified by Rangers's nominated adviser, Daniel Stewart, under AIM Stock Exchange rules - and King's problems with the South African tax authorities would form part of that decision-making process.
Though he will not face fraud charges, he did plead guilty to 41 lesser charges.
King must also satisfy Scottish Football Association regulations but said he has "already submitted all the necessary documentation".
King has held "very positive" talks with Rangers chief executive Craig Mather and finance director Brian Stockbridge in South Africa and says it was agreed he would put his name forward to serve as chairman.
He insisted he is not part of any group seeking to take control at Ibrox and in a statement on the Rangers website, he said his motivation is a "love for the club" and a "desire to support the club with a combination of my business expertise and my willingness to make a further investment".
He added: "I see a present need to utilise the time we have over the next few seasons to be prepared, both financially and on the pitch, to compete with our Glasgow neighbours [Celtic] when we get back to the top league."
The Glasgow-born businessman said it had been made clear to him that Rangers do not need an immediate financial injection but do want to start a new round of funding.
"I wish to lead that fund raising exercise and being on the board will greatly assist me in that regard," he added.
Mather said he would be "delighted to have Mr King, with his knowledge of the club and business acumen on board", adding that he would be a "great asset".
In a statement on the club's website, he said: "Too many are trying to distort the truth but it is this: Rangers is not a business in distress. Rangers is in a good position and it is healthy and robust."
A group of shareholders want former Rangers chairman Malcolm Murray, ex-director Paul Murray, director of Loch Lomond Golf Club Scott Murdoch and Alex Wilson, a former HR director with BT to be appointed to the Rangers board at the upcoming AGM.
Last week, Rangers announced that non-executive director Ian Hart had resigned to pursue charity work.