Ghana FA president Nyantakyi defends Boateng absence
By Matthew Kenyon
BBC Sport, Kumasi
Last updated on .From the section Football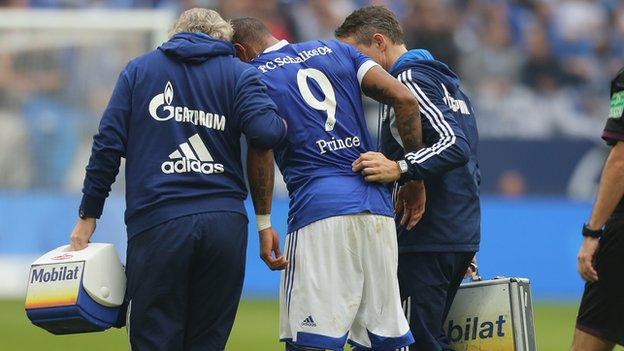 The President of the Ghana Football Association (GFA) has issued a strong defence of absent midfielder Kevin-Prince Boateng.
The Schalke star has come in for criticism from some fans, after pulling out of the Black Stars' squad for the first leg of the World Cup play-off with Egypt because of injury.
Some supporters claim Boateng is not committed enough to the Ghana cause.
"We should show sympathy to him and not condemn him," said Kwesi Nyantakyi.
"Every player would like to go to the World Cup - and this is the biggest platform to the World Cup. Kevin would wish to be here."
Nyantakyi said there was no reason to believe that Boateng's injury is less serious than claimed.
"Kevin has had six injuries on his left knee and this particular injury has occurred on that [same] knee," the GFA president told BBC Sport.
"It would be unfair to think that somebody can feign injury. We should sympathise with him and pray that he recovers soon, so he can stage a comeback to the Black Stars team."
The first leg match of the play off between Ghana and Egypt takes place in Kumasi on Tuesday.
The second leg is scheduled for Cairo next month, but Fifa has demanded that Egypt provide security assurances by 28 October, following renewed violence in the country.
"I think the approach adopted by Fifa is the best in the circumstances - it is very fair, reasonable and professional," added Nyantakyi.
The clash between Ghana and Egypt is one of five African play-offs to determine which teams will represent the continent at next year's World Cup in Brazil.