England v Poland: 18,000 Poles at Wembley 'will add to occasion'
Last updated on .From the section Football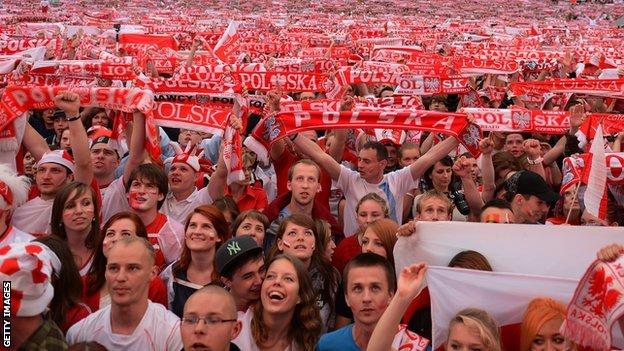 England left-back Leighton Baines has defended the Football Association's decision to sell 18,000 tickets to Poland fans for Tuesday's decisive World Cup qualifier at Wembley.
The FA hopes doubling the 9,000 seats Poland are entitled to will prevent away fans from buying home tickets.
It was a move used for recent games with Scotland and Republic of Ireland.
Baines said: "If away fans add to the atmosphere the home fans produce, it just adds to the occasion."
England lead Group H on 19 points and will guarantee a place at Brazil 2014 if they follow Friday's 4-1 win over Montenegro with another victory.
A draw or defeat would open the door for Ukraine, who are second on 18 points, to top the group, providing they win their final qualifier against pointless San Marino.
That eventuality would see England head into a two-leg play-off against one of the other seven best runners-up from the European qualifying groups.
Poland held Roy Hodgson's side to a 1-1 draw in Warsaw earlier in the qualifying campaign.
Wembley has not been filled to its 90,000 capacity during England's qualifying campaign, with attendances fluctuating from under 70,000 during their first home fixture against Ukraine, to almost 87,000 for the win over San Marino.
Poland are entitled to 10% of the capacity but the FA took the decision to offer Polish fans 18,000 tickets in an attempt to stop them buying seats among home support.
"I presume it will [have a positive effect on Poland]," said Hodgson. "I would imagine they would prefer to play in front of 18,000 fans away from home.
"We have a lot of Polish people in this country and, from what I understand, the FA was virtually forced into this issue because there could have been safety problems with Polish fans sitting with the English fans."
Baines will win his 21st cap after Chelsea's Ashley Cole was ruled out with a rib injury and does not expect the enhanced away following to intimidate England's players.
"It could work in that manner, but to put a more positive spin on it you'd rather play in a stadium with a good atmosphere rather than it be a half-empty stadium," added the Everton defender.
"I remember when we played Ghana - and I don't know how many there were there - they were amazing and it just made it better.
"If it adds to the atmosphere, it's great."
It is understood the FA took the decision to increase the away allocation after discussions with police.
"With high demand for tickets from the large Polish community in England the FA took the decision, based on safety grounds, to ensure Polish fans were allocated space in a specific area of the ground rather than attempting to buy tickets in home areas," said and FA Spokesman.
"This is the same process that was employed for the successful Scotland and Republic of Ireland fixtures earlier this year."