Rangers stress no decision over Dave King becoming chairman
Last updated on .From the section Football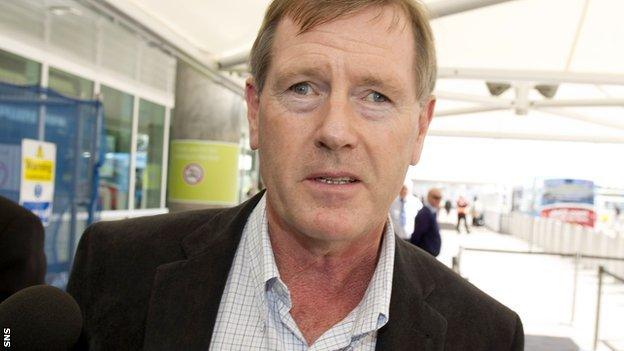 Rangers have stressed that no decision has been made about former Ibrox director
The club released a statement from King at the weekend in which he expressed his desire to become chairman.
Rangers chief executive Craig Mather also said that he thought the South Africa-based Scot would be an asset.
But Rangers have now said they have been advised to amend the statement to comply with Stock Exchange rules.
They said that this had come "at the insistence" of Rangers' nominated adviser, Daniel Stewart.
"RIFC was advised by its nominated adviser that there were regulatory implications arising from these statements and, accordingly, an amendment was subsequently made," the club stated.
"The board needs to make it clear, for regulatory reasons, that the board of directors referred to above is The Rangers Football Club Limited, the wholly owned subsidiary of The Rangers International Football Club PLC.
"Although we welcome the support of Dave King, no decision has been made to appoint him as a director.
"There are regulatory matters which would need to be resolved prior to any such appointment."
That news coincides with a hearing being held at the Court of Session in Edinburgh to consider a move by a group of shareholders to include on the agenda of the club's annual meeting on 24 October a motion for four new directors to be appointed to the board.
The group wants Malcolm Murray, who was club chairman until April, Paul Murray, who was a director until last year, director of Loch Lomond Golf Club Scott Murdoch and Alex Wilson, a former HR director with BT, to be appointed.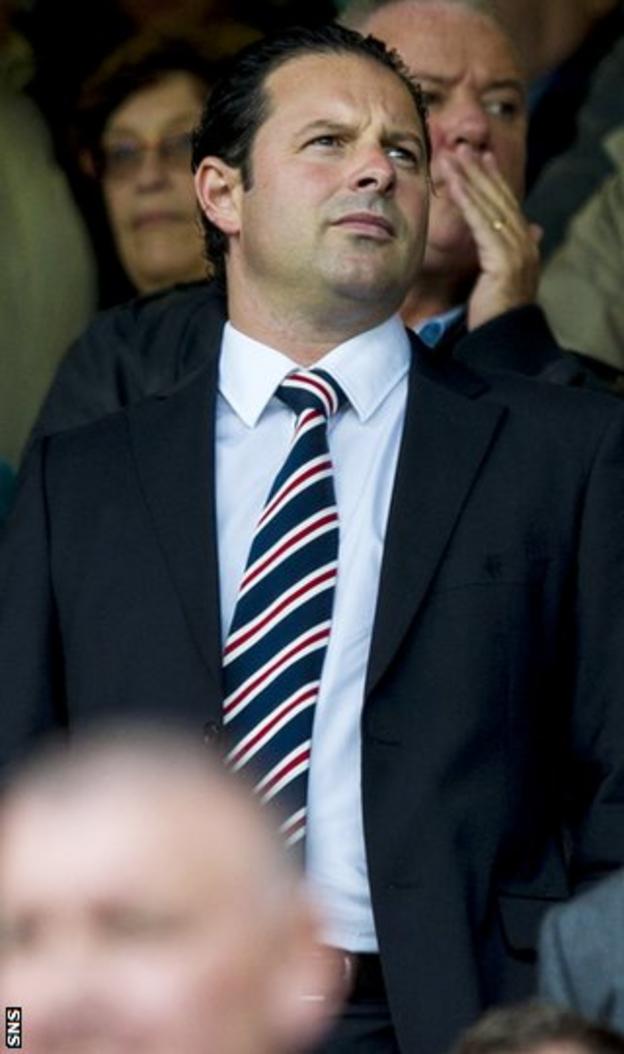 Monday's court judgement will affect whether the annual meeting can go ahead as planned or will be delayed because new director proposals will be heard.
The possibility of King returning to the board at Ibrox follows
King lost the £20m he invested during Sir David Murray's spell as owner after Rangers went into liquidation last year.
However, he believes that having agreed to pay South Africa's revenue service £43m to settle a long-standing tax dispute any impediment to him being appointed to the board has been removed.
Any appointment would not only have to be ratified by adviser Stewart under AIM Stock Exchange rules but must also satisfy the Scottish Football Association's "fit and proper person" rules before he could become a director.
Speculation about another financial crisis at Rangers followed this month's announcement that the club, now playing in the third tier of Scottish football, had
King's statement said that he had discussed with Mather and Stockbridge the commencement of "a new round of funding to ensure that it is available in an orderly and cost-effective manner when required" and expressed his wish to lead that exercise.
However, Rangers have sought to clarify that there is no immediate need for a cash injection.
"The directors also expect that in the medium-term future, possibly coinciding with the return to top league football in Scotland, it may be in the best interests of the company to raise further capital," said the club's latest statement.
"However, there is no requirement for short-term funding and, as such, neither the company nor RIFC are actively seeking finance.
"Nonetheless, we are committed to exploring a future involvement by Mr King in the club."