Truro City boss Steve Massey says win can 'kickstart' season
Last updated on .From the section Football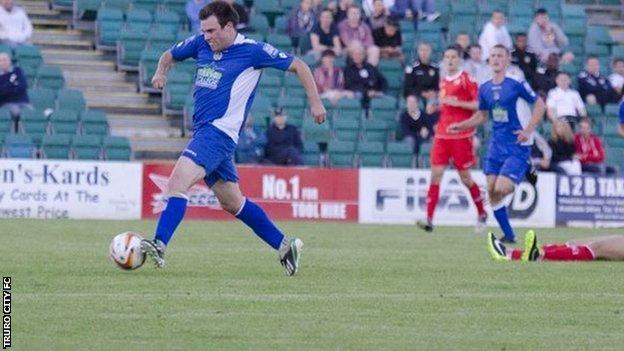 Truro City boss Steve Massey believes the 2-1 win over Banbury United will help "kickstart" the team's season after a poor run of form.
Saturday's win came after five straight defeats and lifted them to 18th in the table, but the White Tigers are still without a home win this season.
"I know there's doubters, but we feel we're a team that can compete in this league," he told BBC Radio Cornwall.
"We are a decent side, and hopefully it will get us going again."
Massey has come in for criticism during the club's recent struggles, but said the win was partly as a result of some of his new signings becoming more fully integrated in to the side.
"The new players and players coming back from suspension are gelling now and you need that," he continued.
"Part of the difference was a little bit of luck - they put just as much effort in as ever, but a few things ran our way.
"Really we should have kept a clean sheet. They had one effort on goal, but we completely bossed the game on an awful surface - it feels great to get the three points."
Truro's goals came from Liam Eddy and Neil Slateford, and Massey afterwards lauded his two "super subs".
"Neil took his chance really well and I have to say that Liam's goal was everything he can do and achieve," he added.
"There was a good touch, then he beat two people with pace and produced a great shot from edge of the area. It was a fantastic goal and well worthy of winning the game."