Scotland v Croatia: Strachan wants improvement in home form
Last updated on .From the section Football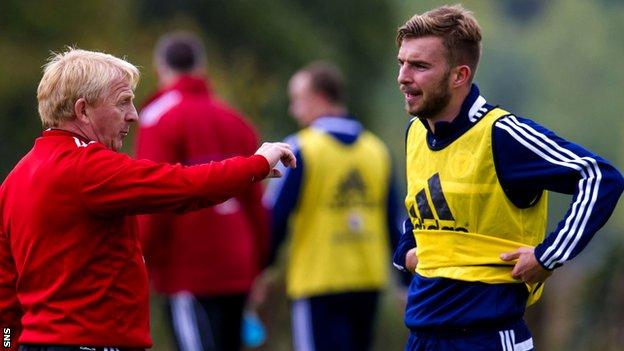 Gordon Strachan's priority is a home win - and Scotland need to beat Croatia to avoid ending a qualifying campaign without one for the first time.
And Strachan sees a home win as more important than thinking of the European Championship qualifying campaign ahead.
"Our away form is better than our home form and what we have to do is improve our home form if we want to qualify for a tournament," said the Scotland boss.
"Away from home, we've done a lot of good things. So we've got a couple of systems that we know the players can use and we can use in the next qualifying campaign to get results.
"But we have to change the system a bit - but not much. There is more emphasis on us to go and get the ball and be really positive.
"Our task is just to try to go out and win games - to find a system that will suit our players at this moment in time.
"It is unfortunate that we have a lot of attacking players out at the moment who we would like in the squad."
Scotland's hopes of qualifying for Brazil from Group A ended in March, but they showed signs of recovery when recording a 1-0 win in Croatia in June.
"We had a system that night that worked," said Strachan. "We had players that night who made it work - that's the most important thing.
"We will have to be more on the front foot.
"The onus is on us to go and win the game and show intention to win the game - and that can leave you a bit exposed at times.
"But that is what you've got to do as the home side and, if you want to progress in tournaments, you've got to try to win your home ties at least."
While Croatia were losing 2-1 at home to Group A winners Belgium on Friday, hoping their runners-up spot will earn them a play-off, Scotland were without a fixture, and Strachan has relished the extra time to prepare.
"I've enjoyed myself and hopefully the players have enjoyed themselves as well," he said.
"We feel that the hours we've been given to train, we've used well, and the players have responded fantastically well."
Strachan took charge midway through the campaign from Craig Levein and has been heartened by what he and assistant Mark McGhee have seen of the squad.
"There have been some pleasant surprises," he added. "Mark asked me if the squad is better than I thought it was, and I think it is."