England v Poland: Final World Cup qualifier lowdown

By Phil McNulty
Chief football writer
Last updated on .From the section Football737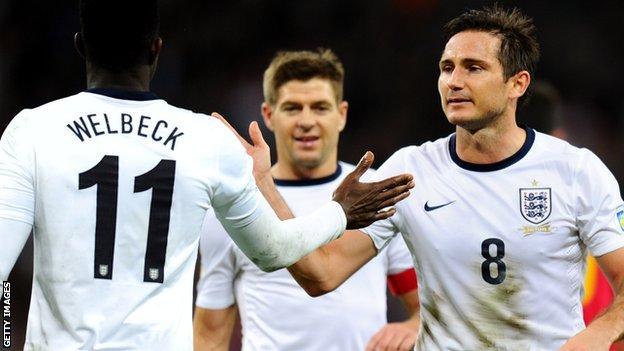 England face Poland at Wembley on Tuesday in a World Cup qualifier with echoes from history as well as significance for the future as victory will send Roy Hodgson's side to Brazil next summer.
Wembley will be sold out as 18,000 Poland fans descend on the national stadium to join the England supporters hoping to see a place in the World Cup assured.
So what are the sub-plots behind what promises to be a night of sporting theatre?
1973 and all that - the Poland Factor
There is no "Poland Factor" that should haunt England - despite the fact that their goalkeeping hero of 1973 Jan Tomaszewski has emerged once more from the mists of time like a ghost.
Since that infamous 1-1 draw in October 1973 that saw England fail to reach the following summer's World Cup and Sir Alf Ramsey sacked, they are unbeaten in the subsequent 14 games with Poland - nine wins and five draws.
England have only failed to score once against Poland in their last 11 games, although they have kept only two clean sheets in their last seven meetings.
Tomaszewski has been cranking up the psychological pressure to draw parallels between this Tuesday night in 2013 and 40 years ago, but those of a certain age will remember how that was a freakish result, with England laying siege to the Polish goal virtually all night only to concede fatally and sloppily to Jan Domarski.
The bigger damage was done in an earlier qualifier when they lost 2-0 against Poland in Chorzow, with captain Bobby Moore making a rare error and Alan Ball sent off for fighting, which ruled him out of the decisive Wembley game.
England's campaign was also undermined in Group 5, only a three-team group in those days, when they drew 1-1 with Wales at Wembley in January 1973.
Poland's danger men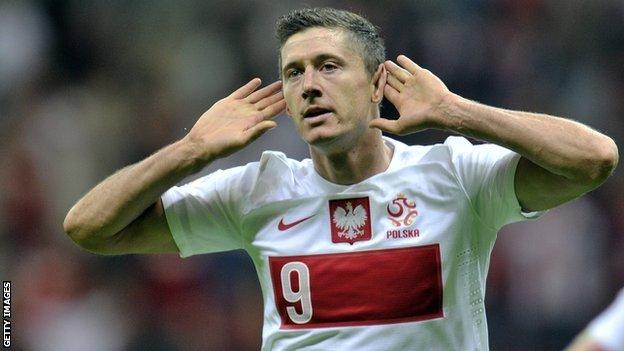 One Polish threat stands out above all others - namely Borussia Dortmund's world-class striker Robert Lewandowski.
The 25-year-old may not have fulfilled his full potential for Poland yet (the service is not as rich for country as it is for club) but he is the man who has the capacity to send England reaching for the safety net of the World Cup play-offs.
England's central defensive partnership of Phil Jagielka and Gary Cahill still have questions to answer at the highest international level and Lewandowski may just be the man to pose them.
In midfield there is the inspirational Jakub "Kuba" Blaszczykowski, also of Borussia Dortmund and the leader of this side. He can score goals and has a natural link with Lewandowski that could trouble England.
Piotr Zielinski is a newcomer to the international stage but Udinese's teenage midfield man is a creative force with an eye for goal. One to watch.
The Polish invasion of Wembley
Poland may be out of the World Cup but Wembley will be awash with noise, passion and colour of 18,000 supporters clad in red throwing their weight behind the visitors.
The Poles are entitled to 10% of Wembley's 90,000 capacity but the FA decided to double that allocation and give them their own section to avoid segregation difficulties.
So even if Lewandowski and Co have no place in Brazil to play for, they will still need to deliver for their huge support.
Some have criticised the FA, but it is a decision that will make for an electric atmosphere and while it will also lift Poland, England defender Leighton Baines believes it will also act as inspiration for Roy Hodgson's side.
It will add a sense of occasion befitting a game of this magnitude, but should not offer England any excuses.
If England do not get the victory they need for automatic qualification it will not be because the FA allowed 18,000 Poland fans into Wembley.
England's warning signs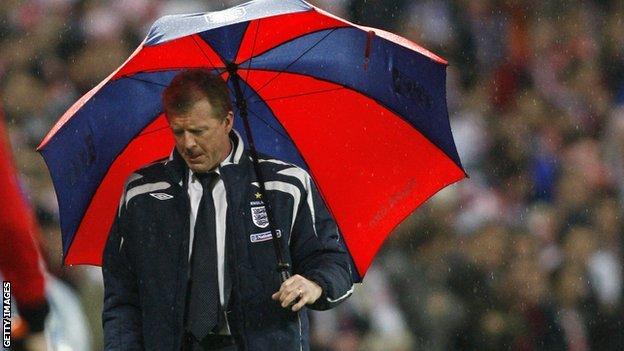 While the archives have thrown up memories of England's draw against Poland in 1973, it is worth placing this into context when you remember that they were a fine, emerging side that finished third in the following summer's World Cup, won by hosts West Germany.
The more recent reminder of how difficult it can be to clear the last obstacle - and one which clearly still causes pain to England captain Steven Gerrard - was the loss to Croatia at Wembley on Wednesday 21 November 2007 that meant they did not reach Euro 2008.
Like Sir Alf Ramsey, who left Bobby Moore out of his side to face Poland in a selection gamble that backfired as his replacement Norman Hunter made the crucial error, then manager Steve McClaren was the architect of his own downfall.
Croatia had nothing riding on the game as they had already qualified and England only needed a draw after being handed an unexpected lifeline by Israel's win against Russia - but even that proved beyond them after a catalogue of errors by management and players.
McClaren chose this most pressurised of moments to drop goalkeeper Paul Robinson and replace him with rookie Scott Carson on a rain-soaked night at Wembley. In these hazardous conditions, the keeper wilted as he fumbled Niko Kranjcar's shot into the net in the opening minutes.
England had also, less contentiously, dropped David Beckham and looked to have salvaged the situation when Peter Crouch's equaliser wiped out Croatia's two-goal lead.
What had been rescued was once more squandered as Mladen Petric beat the uncertain Carson from 25 yards to give Croatia the win and send England out accompanied by an iconic image of the hapless McClaren sheltering from the rain under an umbrella, sparking those "Wally with the Brolly" headlines.
Luck also conspired against McClaren as he was without injured Wayne Rooney, Michael Owen and John Terry, as well as the suspended Rio Ferdinand.
It did not, however, earn him any sympathy after such a dreadful conclusion to England's qualifying campaign.
All the odds still favour England tomorrow, although they have won only two of their last eight final qualifying games (excluding play-offs). They have drawn five and lost one, with two of those games coming against Poland, a win and a draw - and who could forget Beckham's last-minute free-kick against Greece at Old Trafford to send them to the 2002 World Cup?
England's strengths
England may have drawn criticism for their functional style under manager Roy Hodgson but they have not lost any of their nine group games so far.
Hodgson is the beneficiary of Wayne Rooney's rejuvenation at Manchester United and he made the crucial breakthrough against Montenegro with his 37th goal in 85 England appearances.
Alongside him, Liverpool's Daniel Sturridge is finally looking like the player many thought he would become when he came to prominence at Manchester City and then for spells at Chelsea. He showed signs in the 4-1 beating of Montenegro that he can form a potent partnership with Rooney.
England can call on the vast experience of captain Steven Gerrard and Frank Lampard in midfield while nothing is lost (in fact in an attacking context something is gained) by Everton's Leighton Baines coming in for the injured Ashley Cole.
And what about home advantage? Wembley warmed to England on Friday night as they showed an attacking verve to beat Montenegro - as well as patience when it was goalless at half-time.
England and Hodgson could not ask for any more.
Be bold, Roy
England manager Roy Hodgson has often been accused, based on hard evidence it should be said, of being a naturally conservative tactician who always makes decisions with an element of caution.
So it was only right that he was praised for his bold attacking selection of Tottenham's Andros Townsend for his England debut against Montenegro. He was rewarded with a superb display that included the crucial third goal just as the visitors had given themselves hope by pulling it back to 2-1.
Townsend figured in an ultra-attacking line-up alongside Rooney, Sturridge and Danny Welbeck and the result was an attacking display that cast off the caution and posed a consistent threat throughout, and the England manager will be hoping the Spurs star recovers from a knock he picked up during the game.
With the knowledge that victory would bring automatic qualification, surely Hodgson will maintain that positive approach, even when faced with Poland's greater attacking threat.
He may ponder leaving out Welbeck, who played on the left flank, for the reliable and industrious James Milner but it is safe to assume Townsend has earned another outing, with Rooney and Sturridge certain starters.
Fortune favoured the brave when Hodgson picked his team to beat Montenegro. Surely it means more of the same for Wembley on Tuesday.