Accrington Stanley: James Beattie upbeat on survival chances
Last updated on .From the section Football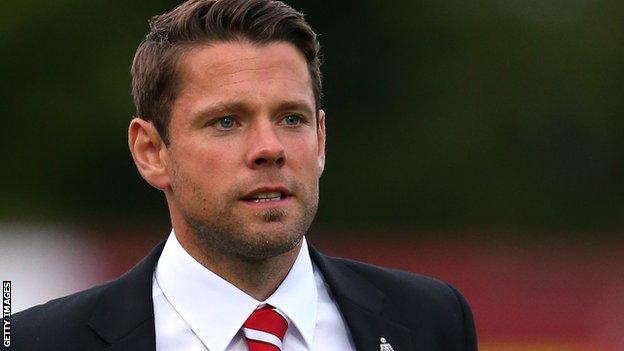 Accrington Stanley manager James Beattie is confident his side have the right mentality to escape relegation.
Stanley have taken just three points from their opening 11 league games and sit bottom of the Football League.
"I've seen teams that have been bottom of the league before and they don't carry themselves like that," Beattie told BBC Radio Lancashire after Saturday's 1-1 draw at AFC Wimbledon.
"If we show that commitment and desire we won't be at the bottom much longer."
The former Southampton and Everton striker, 35, is in his first full season as a manager after being appointed in May.
"I believe in the set of lads who are in there," added Beattie. "It's easy for me to come on and say the same things and people keep saying to me 'why is he being so positive about the team?'
"They are walking around with their chests out, wearing the crest of the club and they've done it very proud."
Stanley endured a difficult campaign last season, but ended up finishing in 18th position in the table, three points clear of the relegation zone.
After losing eight consecutive games following the 2-2 draw with Portsmouth in August, Accrington have now drawn two of their last three games.
"We went 1-0 up and it was like a huge burden had been lifted off the lads," said Beattie. "They were playing like they were play in training and as I've said they make me smile in training every single day.
"I don't want to single anyone out, I want to try and keep the praise as general as I can as I believe that's the right thing to do as we're trying to build a team spirit in there.
"I'm proud of everyone because if you were watching our bench you'd see the lads getting up shouting and screaming and being part of a team, which I think we've got."