FA Inter-League Cup: Depleted Guernsey 'paid the price'
Last updated on .From the section Football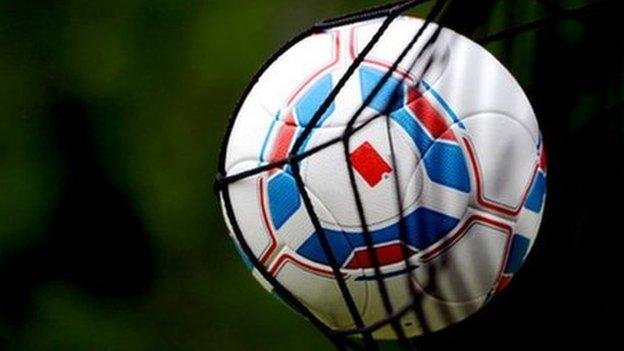 Guernsey Priaulx League coach Ian Champion said availability was a big problem after his side lost 3-1 to Jersey in the FA Inter-League Cup.
Champion was unable to pick players from Guernsey FC, the island's top domestic team, while Guernsey's Under-18s were in action on the same day.
"Guernsey will never have a better chance to beat Jersey so that is disappointing," he told BBC Guernsey.
"We've won the tournament before but with the availability of every player."
The competition pits amateur divisions from around England against each other.
Guernsey FC's decision to play in the mainstream leagues - they are currently in Isthmian League Division One South - means their players are ineligible for this tournament.
Champion added: "I couldn't use any Guernsey FC players and the U18s were playing on the same day so they were unavailable too - so we had to pick from the lads who weren't involved in those squads. But Jersey could choose from their whole island and Muratti side.
"So it was two different sides from two different set-ups - we can only be proud of what we've achieved. The lads gave their all and that's all I can ask for.
"We didn't get the right result but on reflection there's lots of the game I'm really proud of. We controlled large parts of the second half, didn't get a blatant penalty and had the ball in the net twice but that's the way football goes."