Gareth Bale: Winger needs time to settle - Wales boss Chris Coleman
Last updated on .From the section Football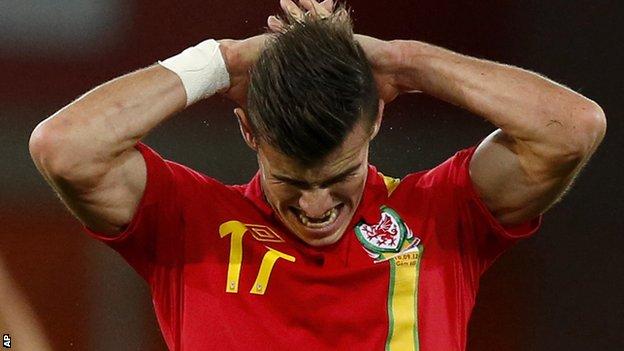 Gareth Bale is going to take time to show his best form at Real Madrid, says Wales manager Chris Coleman.
Coleman did not play the winger in the World Cup qualifying loss in Macedonia straight after his move, although he came on as a substitute in a 3-0 home defeat by Serbia four days later.
"I wouldn't be surprised if it is not until after Christmas until we see Gareth properly again," said Coleman.
Real Madrid denied a report published by Marca newspaper that claimed Bale has suffered a slipped disc in his back.
The 24-year-old has played only three games for his new Spanish club and pulled out of last week's 1-0 win over Macedonia and Tuesday's World Cup qualifier against Belgium with a thigh injury.
However, club president Florentino Perez says the player could return at the Bernabeu against Malaga in La Liga on Saturday.
"[He is] calm and ready, waiting to play on Saturday," Perez told Spanish radio programme Punto Pelota.
"Everyone knows that, because he didn't have a good pre-season, he suffered from muscle fatigue in the thigh.
"He is training well and wants to play and show that all this is just something over nothing.
"Bale is fit to play and wants to show that he is fine."
Perez says Bale's "image and dignity" had been affected by the subsequently denied reports of a significant back problem.
"The player himself and those around him are concerned because they have contracts and campaigns that this could affect," said Perez.
Speaking before Perez's comments, Coleman had said: "At the last camp here, I took a lot of criticism for not playing Bale, but he had had no pre-season training.
"If you don't have a pre-season and you expect to start and finish in a game, you are crackers. It doesn't happen.
"And if you think you are going to pick up where you were the season before, it's not going to happen.
"It takes time and it doesn't matter how good you are. Gareth is a super player and a super athlete, [but] you are not going to switch it on or off.
"It may take Gareth some time before we see what he is capable of, especially with the extra pressure and the new environment which he has got to get used to."