Lionel Messi: Barcelona forward back in training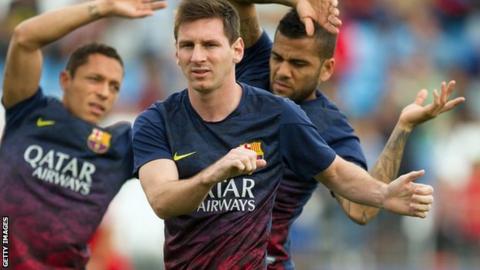 Barcelona forward Lionel Messi has returned to training with the Spanish club as he continues his recovery from a thigh injury.
The 26-year-old was injured in a 2-0 win over Almeria on 28 September.
He has missed a Champions League win over Celtic and a La Liga victory over Valladolid, while also being absent from international duty with Argentina.
Argentina have already qualified for the 2014 World Cup and he has missed games against Peru and Uruguay.
World Player of the Year Messi instead stayed in Barcelona to recuperate and joined in training with the 11 first-team players available to coach Gerardo Martino on Monday.
The Spanish champions play Osasuna on Saturday before a Champions League group game against AC Milan three days later.