Robbie Keane wants 'no-nonsense' Republic of Ireland boss
Last updated on .From the section Football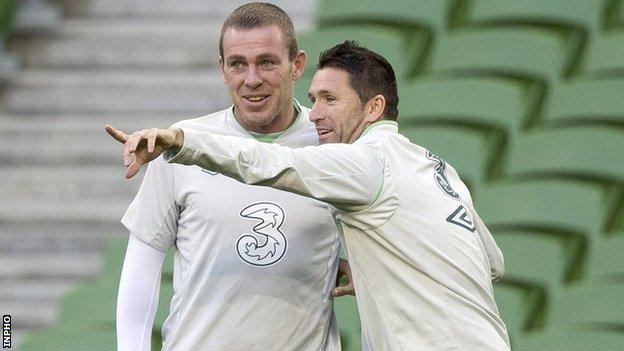 Robbie Keane says the Republic of Ireland need a no-nonsense manager to help revive the country's international football fortunes.
"I want someone who doesn't mess around," said the Republic captain.
"Someone who is very, very proud to be a manager and be proud of what we are trying to achieve in Ireland."
The LA Galaxy striker, who is in line to win his 130th senior cap against Kazakhstan in Tuesday's final World Cup qualifier, played under McCarthy and alongside Keane for his country and knows their merits well.
The Republic captain is also aware of what O'Neill would bring to the party and he has said that he would have no qualms over any of the trio if they were appointed.
"The names I have heard being mentioned, if any of them took over, I think everybody would be fairly happy.
"Mick is a great guy, a fantastic guy. Everything we have referenced, he comes into that mould. If it was Mick, if it was Martin O'Neill, Roy Keane, I don't think you could go wrong with any of them, to be honest with you."
Asked if the next manager should be Irish, Keane replied: "As long as it's the right man, it doesn't matter.
"But of course, I think everybody at this stage now probably would want an Irish manager.
"I think it's probably clear and obvious to see that. It's looking likely that it probably will be, it seems that way, anyway - that's not me with inside information."
Whoever Trapattoni's replacement proves to be, Keane, 33, says he will be available for selection.
"I will continue to play as long as I feel healthy," added Keane, who has a national record 60 Republic goals to his name.
The Republic captain will not be a candidate for the manager's job but it is a role that he could see himself undertaking in the future.
"But I'm sure that wouldn't be for a long, long time - if I got the opportunity."