Blackburn Rovers could 'face fine or embargo' from FFP
Last updated on .From the section Football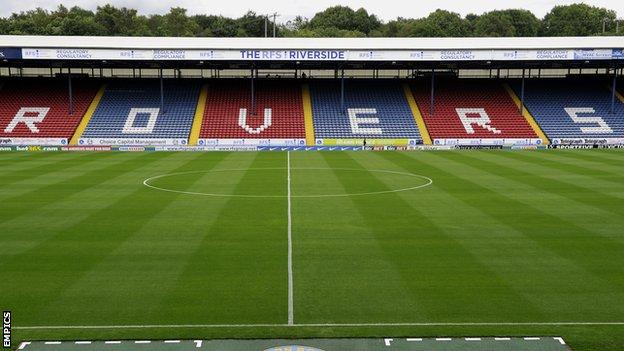 Blackburn Rovers managing director Derek Shaw has revealed the club will probably face a fine or embargo for not adhering to Financial Fair Play.
Rovers also spent £3.5m on agents and went through five managers last season.
"If we are promoted I think we'll have a substantial fine and, if we're not promoted at this stage, we'll probably have an embargo," said Shaw.
"It's a difficult balance because we've got to try to and change a team around that almost got relegated to a team that we want to get promoted."
Last year, Rovers only avoided relegation by four points as Steve Kean, Eric Black, Henning Berg and Michael Appleton all had spells in charge at Ewood Park.
Gary Bowyer guided the club to safety during his second caretaker spell at the helm and, after being handed the job on a permanent basis, set about revamping the squad over the summer.
Indian poultry firm Venky's, who are owned by the Rao family, purchased the club for £43m in 2010 and have insisted they are committed to returning to the Premier League.
The aim of the new FFP regulations is to prevent clubs from over-spending on wages and transfer fees and accruing debts.
By the 2015-16 season, losses at a Championship club can be no more than £5m, with a maximum of £3m funded by shareholders and clubs.
"I personally don't like the rule, I know Gary [Bowyer] doesn't," Shaw told BBC Radio Lancashire.
"It's very difficult for clubs who have come down from the Premier League with quite a number of big contracts that are in place, but we're working on it.
"I think there will be a lot of clubs creating a lot of noise over the next few months because nobody's really been hit with it yet.
"Clubs like ourselves and the Leicester's, and probably clubs like Middlesbrough, who have got big wage bills, won't be wanting transfer embargoes."
You can listen to the Blackburn Rovers fans' forum on BBC Radio Lancashire at 18:00BST on Tuesday, 15 October and can listen again online for the next seven days via the iPlayer.