Dario Gradi: Former Crewe boss is right for FA role, says Steve Davis
Last updated on .From the section Crewe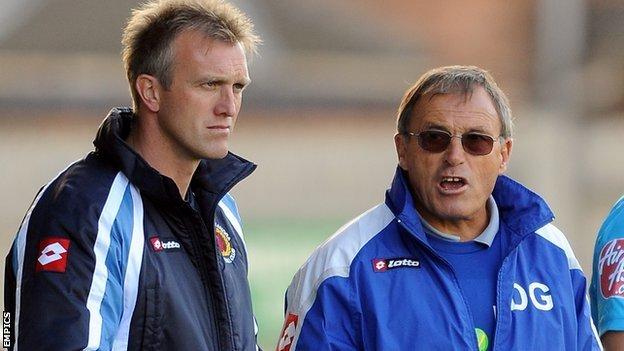 Dario Gradi is the right man to help plot English football's way forward, says Steve Davis, the man who succeeded him as manager of Crewe Alexandra.
Gradi, 72, now director of football overseeing Alex's academy, is one of eight men chosen for his new FA commission by chairman Greg Dyke.
"I told him, 'it's about time, isn't it?'," Davis told BBC Radio Stoke.
"He's invaluable to this country. You're never too old to give people the help they might need."
Former England managers Glenn Hoddle and Howard Wilkinson, ex-England full-back Danny Mills, new players' union chairman Ritchie Humphreys, Football League chairman Greg Clarke and FA vice-chairman Roger Burden, will join Gradi on Dyke's hand-picked commission.
Apart from Hoddle, the make-up of the panel did not impress former England striker Gary Lineker, who said last week on Twitter: "Most of the others are utterly pointless. Expected better."
But Davis believes his vastly-experienced Gresty Road predecessor, who helped nurture future internationals David Platt, Geoff Thomas, Rob Jones, Danny Murphy, Seth Johnson, Dean Ashton, Robbie Savage and Neil Lennon, has much to offer.
"He's the brains behind youth football," said Davis, who is approaching the second anniversary of his appointment to succeed Gradi at Crewe.
"He'll have his ideas. Hopefully they'll listen and then we can find solutions to the problems that we've got at the moment.
"He's worked with the FA over the years. He knows how they work.
Davis continued: "It's brilliant for the club and for him. He's got the experience. And he can make some impact.
"He's worked with top players and he's helped to produce top players for England.
"He knows what's required. He knows what sort of players we need to produce to be competitive."
Dyke last month set the twin targets of reaching the Euro 2020 semi-finals and winning the World Cup in 2022.
"It's good that they have somebody in charge who has the foresight to realise that it's not going to happen quickly," added Davis.
"It's going to be a long-term solution."