Matt Bloomfield: Limit foreigners in the Championship
By Matt Bloomfield
Wycombe Wanderers midfielder
Last updated on .From the section Wycombe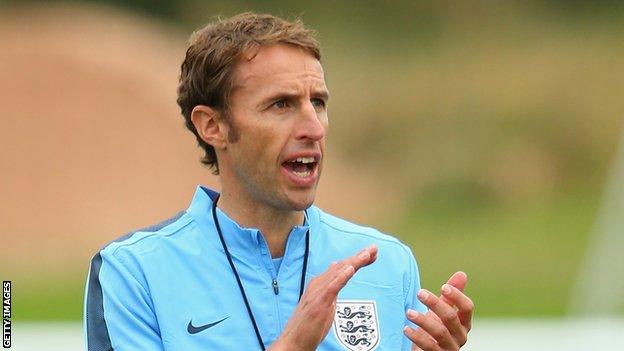 I was very interested to read Gareth Southgate's opinions about introducing a possible limit on foreign players in the Championship.
I agree totally and I really think that English footballers, young ones in particular, would benefit.
As a football fan, I love to watch the top foreign players who ply their trade in the Premier League. No-one can argue against these players raising the standard of our top league and also being a major influence, particularly on the way my generation of footballers look after themselves.
I may not play in the same league as them but it doesn't stop me watching them, reading about them and learning from them.
My point of view is that loan moves for young English players are absolutely vital to their development. If there was a limit on foreign players, would this encourage Championship managers to take more young English players on loan or to promote from within? Yes, I think so.
It might also encourage these clubs to buy from down the leagues and spot talented young footballers who, given the opportunity, could make the adjustment to Championship football.
The current man of the moment, Andros Townsend, is the ideal example of someone who has obviously gained a lot of development from the experience that he gained while out on loan. He spent time playing in League One and most recently in the Championship.
Another example is Saido Berahino, who spent time at Northampton in League Two, Brentford in League One and Peterborough in the Championship before he got a chance to impress in West Brom's first team. He is now also leading the line for England Under-21s.
During my time at Wycombe we have had some fantastic loan players, players who have been willing to immerse themselves in the club and commit to the cause. This, of course, wins them a lot of respect in the dressing room.
On the flip side, there have been players who have clearly only been there for their own benefit and have not bought into the team ethos that is vital in any successful team.
If nothing else, one of the major things that I have seen some young players learn is that they don't want to come back once they've left the lower leagues. We are extremely lucky at Wycombe with the standard of the training ground and the way that we are treated, but compared to the luxuries of Premier League training grounds it's not as good.
The clever ones learn that in order to never come back they have to work harder than ever while on loan, and also when they get back to their parent club, to make themselves a career at the top of the game.
I don't begrudge them thinking this, far from it. If that's the motivation they need then good on them.