Rangers: Murray calls for free vote on board appointments
Last updated on .From the section Rangers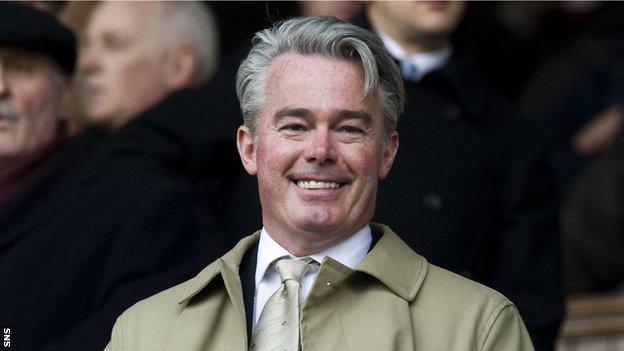 Paul Murray wants shareholders at the annual meeting to freely determine if he should return to the Rangers board.
The Scottish businessman was successful at the Court of Session on Monday in
It means that, when the meeting takes place before the year is out, bids by Murray and three others to join the board must be on the agenda.
"If I'm not voted on, I will accept that. It's a totally democratic situation," Murray told BBC Scotland.
"It's really important that there is what I would call a free vote at the AGM; there's no deals done with anyone.
"Everyone stands or falls on the shareholders' vote and in many ways the AGM then becomes the platform and the mandate to then move forward, put the past behind us.
"I don't know what this board fear. They keep telling me they've got all these votes and all these proxies.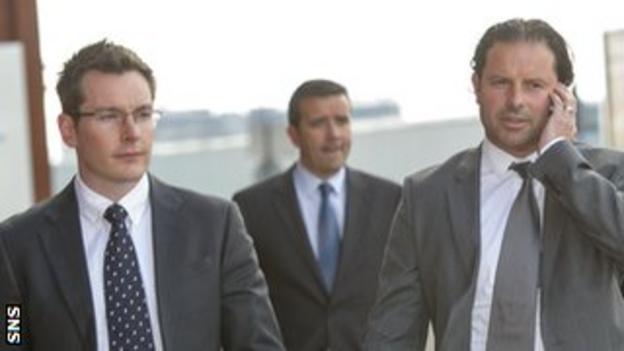 "Well, if that's the case and they don't want me and don't want Malcolm Murray, Scott Murdoch, Jim McColl, they don't vote for us. What's the problem?"
Murray's previous stint on the Ibrox board ended when he was removed by the previous owner, Craig Whyte, prior to Rangers entering administration.
A group of shareholders wants Murray, the recently ousted chairman Malcolm Murray, director of Loch Lomond Golf Club Murdoch and Alex Wilson, a former HR director with BT, to be appointed to the board.
Rangers had planned to hold their AGM on 24 October without the shareholders' proposal, submitted to the club on 27 September, on the agenda. They claimed the group's application was not properly authenticated and that it did not arrive on time.
However, Lord Tyre granted an interim interdict preventing the meeting from going ahead.
That prompted Murray to question whether chief executive Craig Mather and finance director Brian Stockbridge should remain in their posts.
"I think both Craig Mather and Brian Stockbridge have to seriously consider their positions because I think they're untenable," he said on BBC Radio Scotland.
"We submitted perfectly valid legal notices more than two weeks ago. It's a matter of law that if they are valid notices, they have to be put on to the AGM notice.
"The board chose to ignore those notices, to tie us up in all sorts of legal mechanisms and we've been vindicated.
"It isn't just about Paul Murray; this is about the shareholders who requested that we represent them in this exercise.
"They had two concerns which they came to Jim McColl and I about. One was a complete lack of corporate governance on the board and the second one was a lack of financial transparency."
Murray is alarmed that in the 13 months to June and claims that he and the new directors would move swiftly to end the turbulent times at the club.
"We saw the accounts. Quite frankly, if those represent a good performance, I'd like to see what a bad performance is," said Murray.
"By their own admission at a meeting with the supporters last week, Brian Stockbridge admitted there'll be £1m in the bank account next April and that is after they've raised £50m or £60m through season tickets, other income and the share issue in the last couple of years.
"If this is the way the club's being managed and this is the way the board acts then, quite frankly, there are real issues here.
"Our plan in the short term is about stabilising the club, appointing a proper board of directors who are going to look after the club's interests properly.
"We have a few executives identified who could step into position very, very quickly if we're successful.
"We obviously want to be the most successful club in Scotland, that's the objective, but to do it on a sustainable basis."
Murray, who is in favour of South Africa-based businessman claims his group is well supported.
"The shareholders that we represent have 28%, well 28% have signed the requisition previously and we have support beyond that. The people who put money up back at the IPO in December," he said.
"They're the ones that have asked us to represent their interests in the same way that