World Cup 2014: Who is the true father of football in Brazil?
By Bruce Douglas
BBC Sport
Last updated on .From the section Football337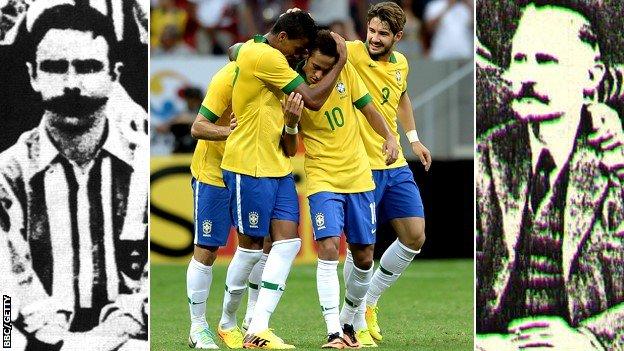 Leaning against the wall of a dusty warehouse in Bangu, a bland suburb in western Rio de Janeiro, a huge statue of a thickly-moustachioed footballer prepares to right a terrible historical wrong.
With hair slicked back and an arm raised in a moment of goalscoring celebration, the four-and-a-half metre cast bronze effigy of Thomas Donohoe is due to be unveiled in the car park of the local shopping centre next month.
In the early 1890s, the site housed a textile factory. Many of its workers were British immigrants, one of whom was Donohoe. This man, his sculptor argues, has been overlooked as the true father of Brazilian football and it's time the world knows about him.
Ask almost any Brazilian football fan outside of Bangu who brought football to the country, though, and the answer you're likely to get is Charles Miller.
Born in Sao Paulo in 1874, the son of a Scottish railway engineer and his Brazil-born wife, Miller was sent to school in Southampton at the age of 10.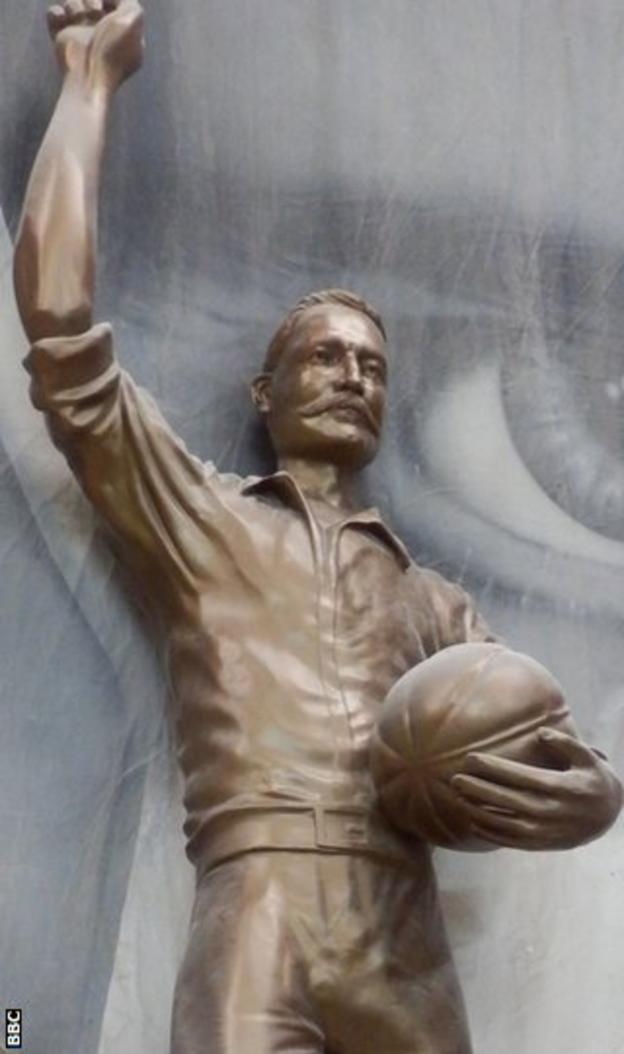 As a keen fan of the new sport, the headmaster of Banister Court School encouraged his pupils to play football. Miller proved a natural talent. Two years before he left school, he was already playing centre-forward for the first team. Later, he was picked for St Mary's FC (now Southampton) and played a few games for the Corinthians.
Ten years after arriving in England, he returned to Brazil. In his luggage, famously, he packed two footballs and a book containing the 13 rules of association football.
The match he organised, on 14 April 1895, between the workers of the Sao Paulo Railway and those of the Gas Company, all of whom were British, is widely considered the first football match to have been played in Brazil.
A few years later, Miller established the country's first football league, cementing his status as the founder of the game in Brazil. But the residents of Bangu hope their new monument will convince football fans visiting Rio during next year's World Cup that it is really Donohoe who deserves the credit.
"Thomas Donohoe was the first to bring a football to Brazil, eight months before Charles Miller," Clecio Regis, the statue's designer, tells me in his workshop. "They [Miller's supporters] accept this, but they say it was just for a kickabout. There's no way Donohoe would have settled for just a kickabout for eight months."
The excitable 53-year old, a set designer, sculptor and owner of the second-largest Bangu Atletico Clube flag in existence, says the only reason Miller is credited with the discovery of the game is because he brought it to Sao Paulo.
"People always forget about Bangu, but the first football in the country was the one brought here, by Thomas Donohoe," he adds.
Donohoe's claim
Thomas Donohoe was born in Busby, a mill town six miles outside Glasgow, in 1863. That same year, the world's first Football Association was founded in London.
Aged 10, Donohoe followed his father into the print works, working as a dyer. And about the same time as he joined the company, he set up its first football team.
Few records of his sporting feats survive though, with the exception of a match report from 1887 praising his performance for Busby in an otherwise humiliating 5-2 defeat by Cartvale.
Marriage, and children, followed. Struggling with a growing family and a meagre income, Donohoe sought opportunities outside Scotland. With British technical skills in demand as Latin America attempted to industrialise, he found a job as a master dyer at a new textile factory in Brazil.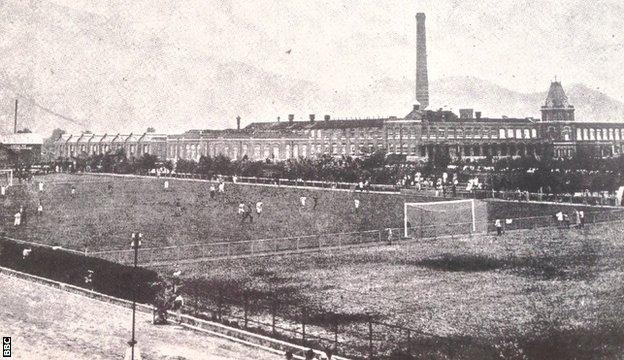 In May 1894, he set sail from Southampton to Rio, leaving behind his wife and two young sons.
Little documentary evidence has been produced to flesh out the details of Donohoe's life in Latin America, particularly relating to his first football games. But Carlos Molinari, the official historian of Bangu Atletico Clube, is trying to put that right.
Bangu consisted of little more than a single street and the textile factory when Donohoe arrived. According to Molinari, the Scot soon settled among the small British expat community in the village. Though happy with his job, and his new friends, he pined for his old hobby, finding Bangu's Sunday pastimes of cycling or music no match for football.
He was horrified to discover there were no teams in the neighbourhood, no equipment to be bought in the shops, and no knowledge of the game whatsoever among the locals.
So Donohoe wrote to his wife, Elizabeth, asking her to join him, and to bring a football, as well as their children. And shortly after her arrival, in September 1894, the first football match in Brazil took place in the field beside the textile factory.
According to Molinari, it was a six-a-side match between British workers, and took place eight months before Charles Miller's game.
Miller time
Few supporters of Charles Miller's claim to be the father of Brazilian football dispute the accuracy of Molinari's work. They do, however, question Donohoe's significance.
"Nobody is saying that no-one kicked a ball in Brazil before 1895," says John Mills, Miller's biographer. "But an organised game is an organised game."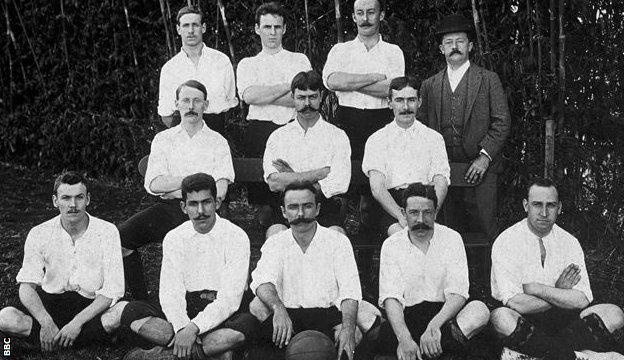 Of Miller's famed luggage, Mills argues the rulebook mattered more than the footballs. "The Sao Paulo Railway versus Gas Company match was the first recorded 11-a-side match using association football rules in Brazil."
Mills shows me a letter written to a Brazilian sports journalist in 1937 by Hans Nobling, a German sportsman credited with helping to promote the game in the early stages of its development.
"When I arrived in Sao Paulo, on 15 May 1897, football was unheard of in Sao Paulo and most likely throughout Brazil. […] To my mind, the honour of having brought to Sao Paulo the first ball for a game of football falls, without doubt, to Charles Miller," he wrote.
Antonio Carlos Napoleao, a football historian I meet in the trophy-stuffed offices of the Confederacao Brasileira de Futebol, agrees with Mills. "I think this idea that there was some guy from Scotland who played a few games here in Rio de Janeiro is very vague," he says.
"That's playing football, not implanting football. They are two completely different things. Charles Miller implanted football in the country: he created a club and helped to launch the first official championship."
Back in Bangu, now an unfashionable suburb with a second division club, such arguments cut little ice.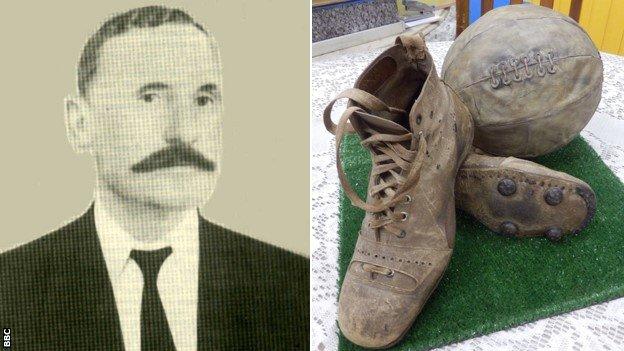 Molinari argues the town would have boasted the first football club in the country had it not been for the intervention of one of the managers of the textile factory, who believed all games, including football, would lead to degeneracy among his workers. By the time the factory owners relented, in 1904, the Sao Paulo league was already in its third season.
But some Banguenses, while still asserting Donohoe's contribution has been overlooked, acknowledge a degree of local pride colours their reasoning.
Benevenuto Rovere, 67, is one of the founders of the Gremio Literario Jose Mauro de Vasconcelos, Bangu's local museum. Inside the cavernous room are replicas of Donohoe's football and boots. On its walls are hundreds of black and white photos chronicling the town's history, including an image of Bangu Atletico Clube's line-up from 1905, which features Francisco Carregal, the first black man to play for a Brazilian football club.
After he shows me around the museum, I ask Rovere if he would still support Donohoe's claim if he were not from Bangu.
After a long pause, he answers: "It's in the blood, isn't it? I wouldn't swap my neighbourhood for any other. It's where I was born and it's where I've lived all my life. And every day I am more convinced that the birthplace of football is here in Bangu."