Walsall: Are Dean Smith's soaring Saddlers good enough to go up?
By Ged Scott
BBC Midlands Sport
Last updated on .From the section Football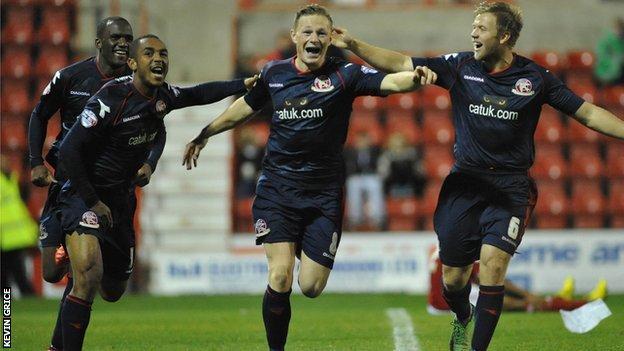 Walsall's long-suffering fans might have been forgiven for thinking, back in midsummer, that the 2013-14 season did not offer very much.
In the space of just one week, during Wimbledon fortnight, Saddlers manager Dean Smith lost his battle to keep hold of his three big hitters, Febian Brandy, Will Grigg and Jamie Paterson.
After the inspiring way last season ended, it seemed like game, set and match to Walsall's promotion hopes.
But not to Smith. The unflappable Saddlers boss had maintained all along that he had suitable attack-minded replacements in the pipeline.
In came Romaine Sawyers, once of West Bromwich Albion, Troy Hewitt, who was at QPR last season, and Milan Lalkovic on loan from Chelsea to compete with last January's signing Craig Westcarr and Ashley Hemmings, who joined in the summer of 2012 after being released by Wolves.
Not only that, Walsall, a club used to being kept in the black by their thriving off-field activities, ended up banking sizable six-figure fees for both 20-goal top scorer Grigg, from Brentford, and Paterson from Nottingham Forest.
And, although it has taken a couple of months for everything to truly start ticking, Tuesday night's impressive 3-1 win at Swindon was firm evidence that Smith's side can now be considered genuine promotion contenders.
The man they call The Ginger Mourinho in this corner of the Black Country - and Walsall fans had dubbed him that long before Burnley's fans weighed in with similar eulogies about their manager Sean Dyche - has worked his magic.
This time last year, Smith's Saddlers were still in the middle of a 16-match winless run that truly tested the Walsall board's belief and patience before transforming themselves over the second half of the season from likely League One relegation candidates to play-off contenders.
Now, things look a lot more promising, having entered the promised land of the League One top six for the first time this season. And, given the quality of the football the Saddlers are playing, the only worry for Smith and his well-respected assistant Richard O'Kelly approaching this weekend's home clash with another in-form Midlands side, Coventry City, surely must be how to keep his bubbling side's feet on the floor.
"With the belief we've got," said Sawyers, "if we're on our game, it's going to be very hard for any team to stop us.
"We've performed to the high standards set by the gaffer and Richard O'Kelly," he told BBC WM.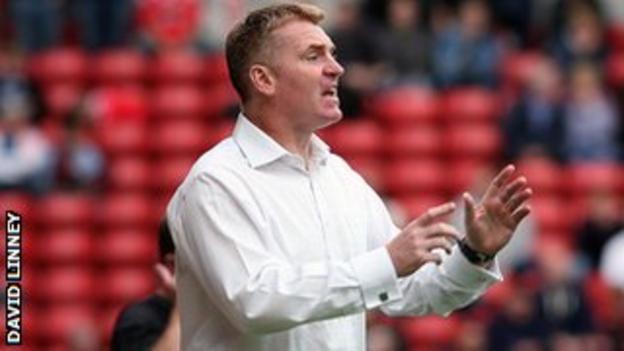 Hemmings is equally enthusiastic about the Saddlers' hopes and dreams.
"I don't think people look at Walsall as a small team any more," Hemmings reasoned. "If we keep playing like this, we will definitely get promoted.
"There is a buzz going through the whole club."
The key to the whole operation, however, is having at the helm such a level-headed, well respected nice guy as Smith.
"One of the things about this club is that we don't judge people too quickly," he said. "The likes of Troy Hewitt, Romaine Sawyers and Milan Lalkovic are all relatively young players in their first full season of professional football.
"History tells us we don't prejudge. We didn't with Jamie Paterson. We didn't with Will Grigg. They came through. And we're hoping that can happen again.
"We look at players with potential, who we feel we can develop."
Admittedly, when it takes until the 95th minute to get an equaliser at Colchester, with their 21st on-target effort of the afternoon, even when playing well, the job can sometimes have its frustrations.
But two victories inside four days at Crewe and much-fancied neighbours Wolves, followed by the achievement of being the first side to take a point off League One leaders Leyton Orient this season, and Tuesday's thrilling win at Swindon, have shown what the Saddlers are about.
"Our principles won't change," warns Smith. "If we keep doing what we're doing, and keep the performance levels, it will be very difficult for some opposition to live with us."