John Toshack's son Cameron becomes coach at Swansea
Last updated on .From the section Football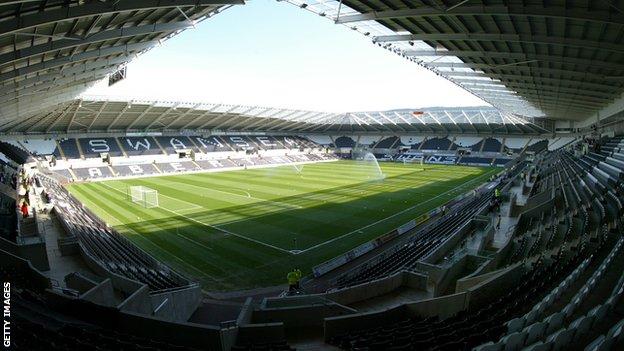 Cameron Toshack, the son of former Swansea City player-manager John, has taken up a coaching post with the south Wales club.
Toshack Jr, 43, will work with the Swansea Under-21 and Under-18 squads.
"To work with the club I have supported as a boy is a dream for me," Cameron told the club website.
"Last season I was a season-ticket holder, so to come in every day and work with the club in a coaching capacity is an absolute pleasure."
Former Wales boss John Toshack earned his managerial spurs by taking over Swansea in 1978 and leading the club out of the old Fourth Division to the top of the First in four seasons.
Now his son, who has swapped his previous career in management and marketing for football coaching, will carry on the family tradition at Swansea.
"He [John Toshack] still holds Swansea close to his heart and is delighted the club is doing so well," Cameron added.
"He is thrilled for me and proud that the Toshack link with the Swans goes on.
"I started coaching part-time with the Academy last season and stepped up my involvement with the Under-21s and Under-18s in August.
"All the paperwork was completed recently and I am delighted to be on board on a full-time basis.
"I have been studying football all my life and I couldn't have asked for a better teacher than my father. He has always set high standards for himself and those around him."