World Cup 2014: England join the Brazil adventure
Last updated on .From the section World Cup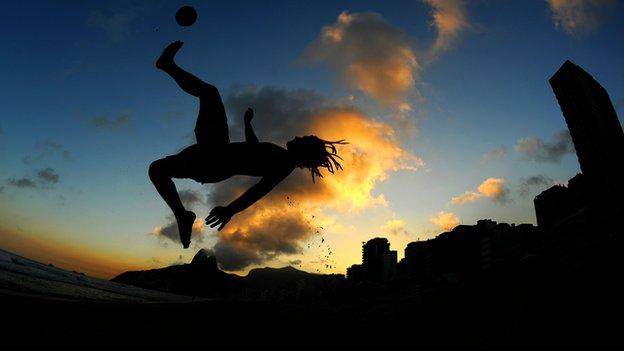 If England is the home of football, Brazil is where the the beautiful game, la jogo bonito, lives.
Next year's World Cup host is a country that ticks off all the cliches, an assault on the senses, a riot of colour and chaos - an adventure, an escape. The images are rich and familiar and remain vivid and fresh in my mind, some three months after I watched from my seat in the Maracana as Brazil overwhelmed Spain to win the Confederations Cup.
I had arrived at the start of that tournament with stories of poverty, corruption, airport nightmares and gridlock ringing in my ears. I left with images of kids juggling limes for pennies at traffic lights in my mind and having experienced the passion and the patriotism of a nation that, despite being troubled by painful and prolonged protests on the streets of many of its major cities, united behind its beloved Selecao.
England will base themselves at the five-star Royal Tulip Hotel on Sao Conrado Beach in Rio and expect to train at the Urca Military base, which is bordered by the Atlantic and has views across the iconic Sugar Loaf mountain. England fans will, no doubt, follow in their droves.
But what can they expect? What can the world expect?
I arrived in Rio in June shortly after 10pm. I was more than a little unnerved by the sight of our driver watching live football on his dashboard TV as we negotiated our way into a city that boasts the kind of breath-robbing vistas that make your heart skip a beat. I found football in every corner of life in Rio. On the beach, a thousand footballs danced in the warm evening air as Brazilians young and old honed their skills by playing a dozen variations of the game. Football is like a second skin in Brazil and the Confederations Cup was a glimpse of what is to come.
Brazil will not host a World Cup that runs like clockwork, as Germany did in 2006. There will be issues, delays and protests. But much of what makes Brazil itself is that infectious and care-free love of life that often means that 10am probably means 11.30am and don't expect an apology.
There is corruption and crime, poverty and drugs. Many of the notorious favelas that defy gravity by clinging on to the hillsides remain no-go areas. But my visit to Penha, a slum that twists and turns its way up the hills in the north of the city, proved that football is not only ever-present in mainstream Brazilian life, but helping to fix age-old problem by providing an alternative for those who haven't always had one.

The stadiums I visited were all ready and visually impressive. Not all of them are finished, however. But those who are fortunate enough to visit next summer will not remember the tournament for the bricks and mortar, but the experience of watching football and the chance to be part of this celebration and experience the joy it brings to people. This country has huge variations, but you will be welcomed in every corner.
In Fortaleza, the warm and friendly beach-side city, I encountered an immense pride at hosting this tournament even if it also played host to some of the most fervent protests. In Salvador, the Bahian city that will host the World Cup draw, they danced in the streets of Pelourinho, the historic centre, to celebrate Brazil's success and the festival of Sao Joao. If you visit the cultural heartland of Belo Horizonte eat the feijoada.
It is often said that Brazil is five countries in one - it is vast, twice the size of India, and it takes more than four hours to fly from one end to the other. In the south, the cities of Porto Alegre and Curitiba will be cold. Sao Paolo is likely to be wet and the sweat will pour off your brow if you visit the Amazonian city of Manaos in the north. To visit Brazil is to throw yourself out of the comfort zone and into the frying pan.
I was surprised by just how important it is to have a little bit of Portuguese. England is not spoken widely, so do not expect to be understood without a few words to help you along the way. Eat in the kilo restaurants, sample a caipirinha, Brazil's delicious, perilous, sugar-laden loopy-juice and then cure your hangover with some acaraje (croquettes with shrimp sauce) that samba across the tongue and bring you back to life.
England's presence in Brazil, of course, does not guarantee success. But what it does guarantee is that England will be part of something special, a tournament that will bring the joy and colour of Brazil into living rooms across the globe. Those who travel there will never forget it.
England may not expect this time around but Brazil is ready - it has always been ready when it comes to football.