Roy Hodgson: England's World Cup qualification repays the faith

By Phil McNulty
Chief football writer
Last updated on .From the section Football617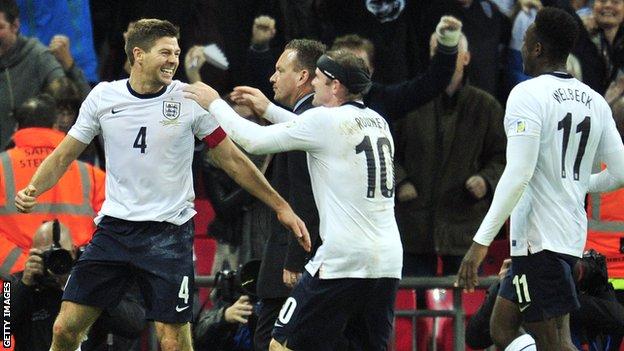 Roy Hodgson's years of experience at the mercy of football's contrasting fortunes did not offer him an escape from agony before England could finally take their place at Brazil's World Cup carnival.
And in the afterglow of his finest night as England manager it became clear Hodgson has no intention of living down to new Football Association chairman Greg Dyke's expectations when he takes his players to Brazil next summer.
Dyke, realistically, stated publicly that England cannot be considered among the favourites next summer - but phase one of the deal was to get there and for Hodgson, the last five days have not only represented job done, but ensured they can board their plane with hope.
Not hope of winning the World Cup - Dyke is right about that - but at least with some optimism of making an impact if the fresh face England presented in their final two qualifiers against Montenegro and Poland can be polished up a little more.
And for a manager criticised for his caution (a guilty plea is entered here by this observer), Hodgson deserves credit for releasing England's handbrake at the time of greatest stress, when the temptation might have been to do the opposite.
As decisive games go this was a cracker, made up of an England team suddenly off the leash on a night when only victory would do, and Poland playing with the freedom of a side with nothing at stake roared on by 20,000 noisy, colourful, pyrotechnic-wielding supporters.
Hodgson provided a wealth of material for lip-readers and people watchers alike during a Wembley thriller that was exciting, occasionally excruciating but ultimately ecstatic as the trusted double act of Wayne Rooney and captain Gerrard scored the goals that allowed all of the FA's tentative plans for 2014 to take shape.
He was caught on camera delivering a fruity response after England were caught for the second time by Robert Lewandowski straight from their own corner. He was seen tugging at his collar as the tension took hold. He was seen shaking off his normal self control to berate the fourth official. And finally, he was dancing around his technical area with undiluted joy before sharing the moment of qualification with his backroom team.
The embarrassment which non-qualification would have brought to Hodgson, England and the FA had been avoided. England simply had to have an invitation to Brazil's party, not for financial reasons because all the FA's big contracts are locked in until 2018 and the tournament itself does not guarantee huge financial rewards unless you reach the latter stages, but because they simply could not afford the damage to the credibility of "the brand" being absent would bring.
Those worries were cast aside as a buoyant Hodgson and his players reflected on their achievement.
Hodgson's England have been difficult to watch at times on their road to Brazil but in a reversal of the usual trend, they played with more freedom as the pressure increased. Circumstances and the return of players such as Rooney and Daniel Sturridge helped, but Hodgson helped himself with the bold call for Andros Townsend and his determination to play a fluid and progressive front four when the stakes were at their highest.
And for that, Hodgson deserves the credit and goodwill that was aimed his way as England's followers filed away into the Wembley night.
Hodgson took Harry Redknapp's less than flattering remarks about England's playing style on the chin - but he could produce the manner in which they beat Montenegro and Poland as a forceful response to those of us who were critical after what actually proved to be a crucial goalless draw in Kiev.
Yes it was harum-scarum at times, but it was exhilarating to watch. We cannot berate Hodgson for his conservatism on one hand, then question him on the other when England produce the attacking football for which we have been asking.
Of course there were flaws in England's display, they were horrendously open at times, but Hodgson now has time to address them.
If Hodgson needed to gain acceptance from some England fans as their manager, two results and performances like the ones they produced at the moment when nothing less would do will go some way towards solving that problem.
Hodgson did not exactly take issue with Dyke's reality about England's chances next summer but he also correctly stated you have to be in it to win it. And England are in it, deservedly after negotiating 10 qualifying games unbeaten.
Are England serious contenders to win the World Cup? You would not risk someone else's money on it, but it does a disservice to the efforts of Hodgson and his players in the last few days to dismiss the optimism on show as they walked arm in arm around Wembley at the final whistle.
There are reasons for Hodgson to believe England can at least make an impact in Brazil.
In Rooney he still possesses his game changer, the striker who has made the crucial first breakthrough in both these qualifiers, even casting off his new protective headband to score against Poland. England still cannot function at their best without him.
And, if the 27-year-old can continue his renaissance at Manchester United, it may just be that a player who clearly enjoys playing under Hodgson's England management might finally make his own statement at a World Cup.
He has a captain in Gerrard who, while perhaps not quite the every-blade-of-grass-covering force of old, is still such a significant, influential figure. He has relished being captain in his own right during this campaign and it was fitting that his goal set the seal on qualification.
Hodgson is also fortunate in having two of the world's finest left-backs at his disposal. The magnificent performance of Everton's Leighton Baines on Tuesday almost dared his England manager not to even think about relegating him to Ashley Cole's understudy once more.
And then come England's young brigade.
Townsend was regarded as a left-field selection against Montenegro but he has excelled in both games. The outstanding teenager Ross Barkley has had a taste of international football, Jack Wilshere is still to fulfil his potential while West Ham United's Ravel Morrison can be the "bolter" - the late selection from nowhere that often appears at major tournaments - if his shows of maturity this season turn out to be the real thing.
Hodgson had a free swipe at Euro 2012 after arriving so late on the scene to replace Fabio Capello. Only a meltdown in Poland and Ukraine could have dented his standing.
The real task was to take England to Brazil. England left it late but they saved their best until last - and for that Hodgson and his players deserve the celebrations that were under way at Wembley late on Tuesday night.