Craig Bellamy admits to emotional Wales retirement
Last updated on .From the section Football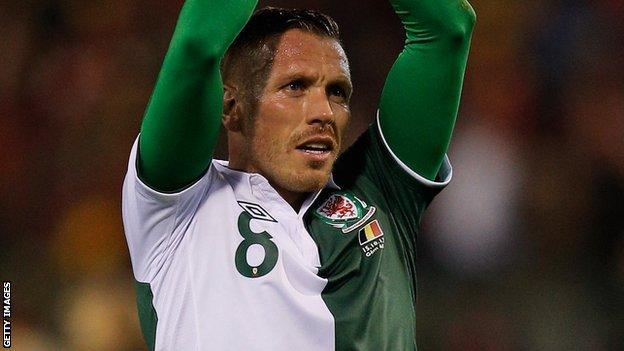 Craig Bellamy bowed out of international football admitting it was an emotional finish to his 78-cap Wales career.
The 34-year-old, who scored 19 goals during 15 years as an international, played in Tuesday night's 1-1 draw in Belgium.
He revealed the Welsh national anthem brought home his retirement.
"You do think: 'This is probably the last time I'm going to be in this position as a player,'" said Bellamy.
"To soak in your national anthem. I'm speechless about it, but it is really nice. It's something I do cherish.
"It did hit home a bit that I'm not going to be this side of it again.
"I've enjoyed every second of it. To reach 78 [caps] and the injuries I've had down the years. I'm delighted."
Bellamy did question whether it was right to have given 16-year-old Harry Wilson his debut on Tuesday and prevent England having claims on him.
The Liverpool Academy midfielder came on in the 87th minute against Belgium to become Wales' youngest ever player.
"Sixteen is young. He can't play for anyone else now. Is that really the most important thing?
"I think he's a talent and I think he's going to do well in the years. But I'd like to see him do well first."
But Bellamy also admitted that seeing Wilson become the youngest ever Wales player, beating Gareth Bale's previous record by 108 days, put his own age into perspective.
"He [Wilson] is my boy's age, so probably [it brought] home to me how old I am," said Bellamy, who made his Wales debut against Jamaica in 1998.
Bellamy's retirement coincided with the end of Wales' 2014 World Cup qualifying campaign which saw them finish fifth in Group A, which contained six teams.
In their 10 games Wales recorded three wins, six defeats and a draw.
But Bellamy, who has hinted one day he would like to manage Wales, says the future is bright for Welsh international football.
"It's a good generation. A lot of them had potential but a lot have come to the fore and are fulfilling it," he said.
On the draw with Belgium, ranked sixth in the world, Bellamy added: "It was a decent result. It was difficult especially when they went 1-0 up. Obviously James [Collins] going off was a bit of a blow to us we needed as much experience as we could.
"We found an extra gear in the last 10-15 minutes. It was a nice way to go out."