Gordon Strachan instils belief in Scotland players

By Alasdair Lamont
BBC Scotland's senior football reporter at Hampden
Last updated on .From the section Football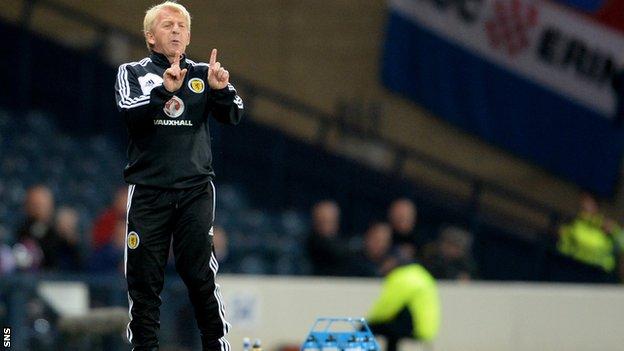 Much of the talk following Scotland's superb 2-0 victory over Croatia was of "green shoots of recovery".
Could the mire Scotland have found themselves languishing in since their elimination from France 1998 be about to yield a crop of blossoming footballers?
Well, yes actually and the man responsible for this recovery, for cultivating a seemingly irrecoverable barren patch, must take enormous credit.
Gordon Strachan has inherited a squad made up of decent and honest players who were performing beneath themselves under Craig Levein and somehow turned them into a team playing above itself.
There were hints of this in Zagreb when Scotland produced an incredibly brave performance, full of guts, to win by a solitary Robert Snodgrass goal.
The victory in Skopje over Macedonia last month suggested that was not the freak result it might have appeared to be in isolation.
But it was Tuesday's home win over Croatia that truly underlined a marked change from the squad Strachan inherited only this year.
No longer do the Scots look cowed in the face of world-class opposition, scared to take possession under pressure and unable to keep it. Nor do they take the field unsure of their specific role within the team.
Strachan's success has been twofold.
Tactically, he has been, at times, masterful. And he has instilled self-belief in the players, which has led to some of the best attacking football Scotland fans have seen their team play in a generation.
Football, particularly at this level, is a game decided by fine margins and so the difference between what Levein was trying to implement and what Strachan undoubtedly has implemented may not be drastic.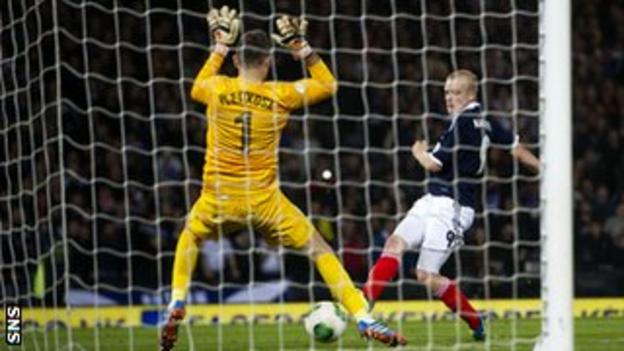 But though the current manager was reluctant on Tuesday night to publicly analyse what it is he brings to the job that other recent incumbents have not, his tactical nous clearly sets him apart from the majority.
He has spoken of finding two or three systems with which the players are comfortable and that can be utilised depending on the scenario.
Against Croatia at home, Strachan's 4-4-1-1 ensured the technically impressive opposition found it hugely difficult to pick their way through the midfield and defence, ensuring goalkeeper Allan McGregor had a quiet night.
But the personnel employed also meant Scotland had plenty of attacking options themselves, giving them a balance that was rarely achieved in recent qualifying campaigns.
The manager has also deployed a 4-2-3-1 formation in recent games - a subtle variation on Tuesday's. There will be no radical overhauls from game to game, just gentle tweaking as Strachan continues his revolution.
That said, no-one who has watched Scotland on either business or 'pleasure' in the past 15 years will take continued progress for granted, least of all Strachan.
Much work still has to be done before Scotland's garden begins to look rosy, but those "green shoots of recovery" are certainly starting to sprout.