The night Jeremy Goss helped Norwich shock Bayern Munich
Last updated on .From the section European Football
Twenty years ago, as England stuttered towards World Cup qualification failure under the haunted gaze of Graham Taylor, a technically inferior English football was readying itself for another harsh winter in Europe.
Still struggling to overcome the effects of a five-year ban from European competition following the Heysel disaster - and despite the formation of the Premier League a year earlier - English clubs' prospects in Europe did not look good. Inaugural Premier League winners Manchester United would go on to be knocked out in the Champions League second round by Galatasaray.
English football, more than ever, needed a spark. It got one from the most unlikely source.
Norwich City, third-placed finishers in the 1992-93 season despite a negative goal difference, found themselves in Europe for the first time in their history thanks to Arsenal's FA Cup and League Cup double. The Canaries' expectations were not high.
But after beating Dutch side Vitesse in the Uefa Cup first round, Norwich would go on to stun German giants Bayern Munich in the city's famous Olympic Stadium, an achievement to rank alongside the greatest - and most surprising - results in the history of British clubs abroad.
It is a match, played on 19 October 1993, that is lodged firmly in the minds of a generation of football fans for the sheer unlikelihood of it all, as well as for John Motson's famous commentary line: "This is almost fantasy football."
The fantasy football was played largely by Jeremy Goss, whose sublime volley gave the Canaries the lead en route to a 2-1 first-leg victory in Germany, a result followed by a 1-1 draw at Carrow Road, with Goss again the Canaries' scorer.
"I can still feel the ball hitting my foot now," Goss says of his goal in Munich, capitalising on a poor defensive clearance from West Germany's World Cup-winning captain Lothar Matthaus. "It was such a sweet strike.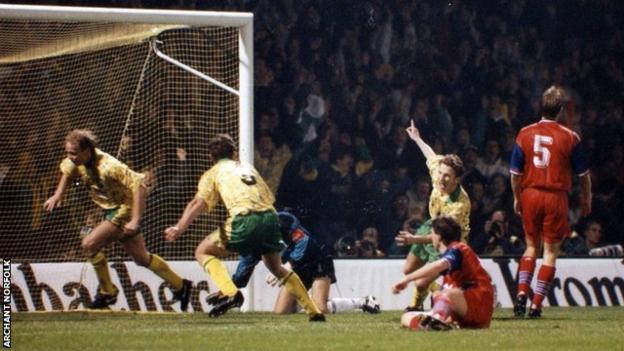 "Luckily for me, I am remembered as the man who scored that goal against that team in that cup game. I had a couple of minutes in the big time of mass media exposure and I revelled in it, for the simple reason that it took so many years of hard work and disappointment to get to that level."
Goss and his team-mates did not achieve their success against a poor Bayern side either. With Matthaus their lynchpin and Jan Wouters fresh from helping the Netherlands end England's World Cup dreams, the Bavarians would go on to win the Bundesliga title.
Norwich, though, were undaunted by the task facing them - to become the first English team ever to win at the Olympic Stadium.
"We thrived on the big stage," adds Goss. "We were desperate to play in the Olympic Stadium. The pitch was gorgeous - like a billiard table."
That Norwich were the English team to flourish that year should perhaps not have been such a surprise.
Led by manager Mike Walker, the Canaries introduced a continental sweeper system to their Premier League campaign, using the versatile Ian Culverhouse, flummoxing opponents at home and on the continent.
In England, teams lined up as they had done for years, unable to fathom Norwich's tactics. Teams abroad were simply taken by surprise that a backwater English club had embraced such progressive ideas.
"The Munich win wasn't a surprise to us - we were that confident and were playing so well in the Premier League at the time," says Goss, whose first-leg volley was followed by a Mark Bowen header. "The manager couldn't get us off the training pitch because we loved it so much.
"It was just a terrific side. The belief, the strength and confidence I got in my game came from the people around me. There was Bowen's second goal, Ian Crook's fantastic crosses and goalkeeper Bryan Gunn's magnificent save in the dying moments of the game, when [Munich's Adolfo] Valencia had a free header."
Gunn, City's first-choice goalkeeper from 1986 to 1998, recalls the shock among the players on the night. "The fact we were 2-0 up in the first 20 minutes… we were looking around at each other saying 'this is too easy'," he said.
"We had read about things in the press beforehand - we were classed as country bumpkins. Whether that was lost in translation or not I don't know, but we went through and showed our steeliness. And it's an achievement that will never be surpassed now Bayern have moved to the Allianz Arena."
Goss adds: "Bayern underestimated us. Lothar Matthaus, as captain of Germany, most certainly underestimated us. They couldn't cope with us; they couldn't cope with our work ethic.
"In the press, Bayern said the first game was a fluke, and that the real Bayern Munich would turn up. Matthaus said Bayern would qualify."
That, of course, did not happen, and the day lives on in the memory - both for the result and Motson's "fantasy football" line.
"Fantasy football? I can't remember whether I said it because of the Fantasy Football television programme or not," Motson says. "I probably didn't. I suppose the fantasy was the fact Norwich were in that position at all.
"After the Heysel ban it took a while for English clubs to re-establish themselves. I think you could say Norwich's run and their victory in Munich proved to be a stepping stone to English clubs being accepted again."
The fantasy was short and sweet - Norwich were knocked out in the next round by Inter Milan, beaten 1-0 in both legs.
But 20 years on, with England this time safely qualified for the World Cup finals and Manchester United well set in yet another Champions League group stage, they might want to give a nod to an unheralded Norwich City side who feared no-one and surprised everyone.