Coach Appiah tells Ghana to forget play-off advantage
Last updated on .From the section Football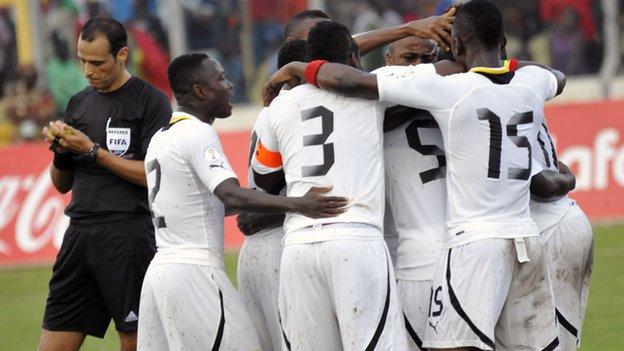 Ghana coach Kwesi Appiah has told his players to forget their 6-1 win over Egypt in the 2014 World Cup play-off first leg on Tuesday.
Appiah wants the Black Stars to stay focused for the return leg in Cairo on 19 November and to not get carried away by their performance in Kumasi.
"We must prepare well for the return match and forget we have a five-goal advantage," Appiah said.
"My team dare not underestimate Egypt and their strengths after this result."
However, Appiah did concede that his team had put in a good display and he commended them on their efforts.
"We were much quicker and the boys played very well tactically," he added. "I knew that if my players had a good day, Egypt would have no chance of containing them."
For Egypt coach Bob Bradley, the result was a crushing blow and led to speculation, since dismissed by the Egyptian Football Association, that he was to be sacked.
The American had been confident his side - who went into the game with a 100% record in qualifying - would make it very hard for Ghana.
It turned out not to be the case and Bradley admitted: "The dream of going to the World Cup is what kept our team united for the past two years. Now we have seen that dream become nearly impossible.
"I say 'nearly impossible' because the situation that we have put ourselves in is a very difficult one. We know this and we feel this.
"Ghana is a proud football nation. The talent of the players and the emotions of the supporters came through in Kumasi for them and they can be proud."
Egypt were the lone country to reach the play-offs with a perfect record, only to discover that Ghana were on a different level to second-round rivals Guinea, Mozambique and Zimbabwe.
Post-match riots in Port Said last year that claimed more than 70 lives, the toppling of President Mohamed Morsi and a volatile security situation have had a huge impact on Egyptian football.
The last two editions of the national league were not completed because of security concerns, despite matches being staged behind closed doors.
Top Cairo clubs Al Ahly and Zamalek did get some competitive action by playing in the African Champions League, but most of those games were also staged in empty stadiums.