Ivorians making impact in Tanzania
By Emmanuel Muga
BBC News, Dar es Salaam
Last updated on .From the section Football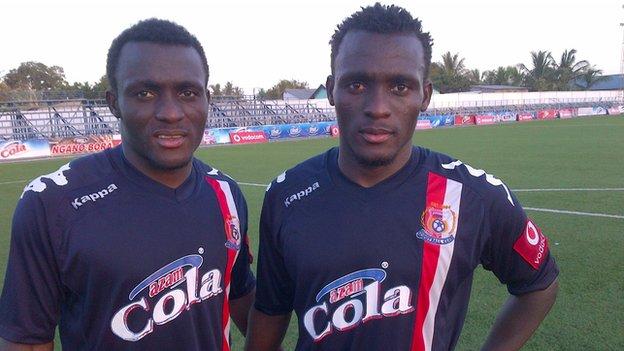 Tanzania's first Ivorian imports are making a huge impact for Azam FC, the country's big spenders who have experimented with players recruited from Burundi, Kenya and Uganda.
The richest club in Tanzania seem to have finally found what they were looking for in twin brothers Kipre Tchetche and Kipre Bolou.
The pair helped Azam finish second in the league last season and the club also reached the third round of the Confederation Cup.
"They are players of star quality," Azam coach Stuart Hall told BBC Sport.
"Tchetche scored 20 goals for us last season, 17 in the league and three in the Confederation Cup. Bolou is an excellent defensive midfield player," added the England-born tactician.
Tcheche caught Azam's eye during the East and Central Africa (Cecafa) Challenge cup in December 2010, where Ivory Coast was participating as a guest team.
Striker Tchetche fell in love with the country and went back home and invited his twin brother Bolou to go back with him to Tanzania.
"The league here is tougher and very physical, it is more competitive and it gives as a different challenge," the 26-year-old Tchetche told BBC Sport.
"Azam treats us very well and we have good contracts - I can't discuss my salary but we are contented here.
"I went home and told my brother that Azam is a strong club in Tanzania and that they are determined to do better and better - and he came with me."
The pair played for Sewe Sport (Bolou) and JAC (Tchetche) and also represented Ivory Coast in the CHAN tournament for home-based players before heading to Tanzania, which they consider a transit route to higher level.
"Our dream is to play at higher level, we don't know when it will happen but we are not in hurry because we are happy here," said Bolou.
Although Azam have not revealed how much they paid for the brothers, Hall insists the club struck a good deal.
"We did not have any difficult getting them here, and they did not cost us a lot, because there was a civil strife in Ivory Coast and the clubs did not have money, they needed money," he said.
"We have got value for money, they have added significant value to our team."
The pair have quickly adapted and are making efforts to learn Tanzania's national language Swahili as they slowly settle into Tanzanian life.
The club, which is owned by billionaire industrialist Salim Bakhresa, continues to invest heavily by constructing a stadium and establishing a football TV channel as it aspires for greatness.
Given the ambition to grow as a giant team, Tchetche and Bolou may be the first Ivorians to come to Tanzania but they may not be last.