Scotland: Winning finish leaves assistant Mark McGhee frustrated

By Liam McLeod
Football Commentator, BBC Scotland
Last updated on .From the section Football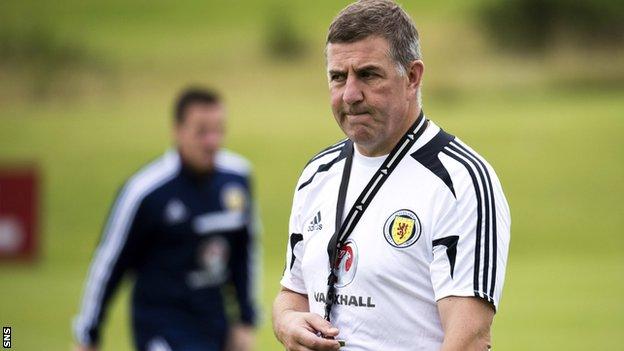 A winning end to Scotland's World Cup qualifying campaign has left assistant manager Mark McGhee feeling frustrated.
The Scots finished their Group A fixtures only six points adrift of Croatia,
McGhee thinks the team can
"I wish there was a game on Saturday," he said. "I wish we had two or three of the qualifying games still to play. It's just very frustrating."
Scotland finished a campaign during which Craig Levein was replaced as team boss by Gordon Strachan with three wins in their last four encounters, two of those against the top-seeded Croats.
"We go into the winter now buoyed and optimistic and looking forward the the draw for the European Championship and maybe the possibility of better times to come," McGhee told BBC Scotland.
It is now 11 months until their next competitive outing, when the bid to reach Euro 2016 in France begins and the major tournament hiatus hurtles towards a third decade.
But McGhee does not believe the long gap between matches will be an issue for an in-form squad.
"I don't think it'll be a problem," he said. "I think Gordon will take the opportunity to look at one or two players who have been on the fringe and who haven't had an opportunity in this campaign.
"I think the spirit is there that they will be looking forward to the next campaign and that alone will see us through.
"There's an atmosphere about the camp of hunger, anticipation and impatience almost to get to the next campaign."
Despite the positivity, the overriding feeling for McGhee is frustration, but he insists that Levein, who was in charge for the first four of 10 fixtures, cannot shoulder all the blame.
He recalled the two defeats by Wales, the Scots feeling aggrieved by a disputed refereeing decision in Cardiff and a red card for Robert Snodgrass at Hampden.
"There was an edge taken off the game against Croatia because of the Wales games," he said.
"Scotland as good as beat Wales in Cardiff with the disallowed goal and the circumstances of the game with Snoddy being sent-off.
"Those two games would have made last night's one a different prospect.
"So, regardless of what went before, there still was a possibility - mathematically - for us to qualify since we've been there, so we have to take some of that as well.
"It's not all about Craig Levein and his time - it's about Gordon and our time as well in the sense that we didn't do anything against Wales and Serbia.
"We've got to take that on the chin, learn from that and grow from that."