World Cup 2014: Six issues for England boss Roy Hodgson

By Phil McNulty
Chief football writer
Last updated on .From the section Football824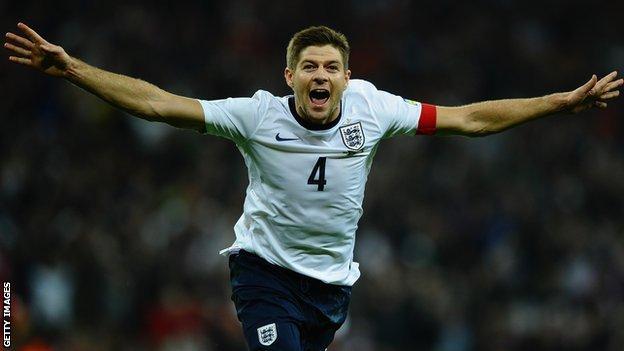 England manager Roy Hodgson achieved his initial objective of successfully securing a place at the 2014 World Cup.
His team went unbeaten in 10 qualifying games and confirmed their place in Brazil next summer with back-to-back Wembley wins against Montenegro and Poland.
Here are six key issues Hodgson must ponder in the months leading up to England's departure.
1. Wayne Rooney
Rooney's performances - and crucial breakthrough goals - in the final two World Cup qualifiers restated his importance to England. As a goalscorer and the man who knits it all together between midfield and attack, the 27-year-old remains indispensible.
After his summer of discontent at Old Trafford, Rooney is playing as well as he has done in recent memory. Hodgson will hope that he will also benefit from the striker's Old Trafford renaissance.
England must hope Rooney stays fit and travels to Brazil in sound mind and body. If he does then he may finally make the impact on a major tournament that has, for a variety of reasons, eluded him since he arrived on the international stage at Euro 2004 in Portugal.

The smiles that wreathed Rooney's face at the final whistle on Tuesday - and the shared delight with captain and fellow Merseysider Steven Gerrard - illustrated how he has rarely looked happier playing for England than he has under Hodgson in recent days.
It is all a far cry from the misery Rooney appeared to endure at Rustenburg's infamous "Camp Capello" in South Africa in 2010.
A happy Rooney playing in his current form will again make him England's game-changer in Brazil.
2. Baines or Cole?
On the strength of his performances against Montenegro and Poland, it would surely be impossible for Hodgson to leave Leighton Baines out of the side were the World Cup to start next week.
He was magnificent against the Poles, giving England an extra dimension in attack and creating Rooney's goal.
While much has been made of Ashley Cole's superior defensive ability and understandably so, Baines has closed the gap over the last 18 months and there is now a strong case to say Everton's defender should hold on to the position.
There is little to choose between the pair and England are fortunate to have two of the world's best left-backs at their disposal, but Baines is the man now in possession and it would be an injustice to take the place away from him on current evidence.
Those of us who have watched Cole perform so brilliantly against the likes of Cristiano Ronaldo at major tournaments would not have the slightest qualms about restoring him to the side.
But on recent evidence Baines deserves to keep his place in the team as he demonstrates why Manchester United manager David Moyes was so keen to sign him - and why Everton found it so easy to reject their interest.
A tough choice for Hodgson but one any manager would envy.
3. The young brigade
Hodgson's bold, successful call in introducing Tottenham's Andros Townsend so late in the campaign shone a light on some of the young English talent that have the chance to become their World Cup 'bolters' - players who suddenly emerge on the eve of a tournament and go on to have a major impact.
Townsend, 22, looked instantly at home in international football. He has pace, is direct and looks to have good decision-making skills when it comes to when to shoot and when to deliver. He has put real pressure on Arsenal's Theo Walcott, who was favourite for the right-flank position.
Everton's outstanding 19-year-old Ross Barkley has already had a taste of England's World Cup campaign against Moldova and has shown the maturity that has made him such an important part of manager Roberto Martinez's plans at Goodison Park.
Barkley never takes a backward step. Every thought is forward with the exuberance of youth and he is sure to get another opportunity before the World Cup. Whether he can cement a place in a congested midfield department or if he can fit comfortably into Hodgson's chosen system remains to be seen, but his potential is limitless.
Arsenal's Jack Wilshere is still only 21 with plenty of time to come again despite a spell of indifferent form, while the real outsider might come in the shape of West Ham's Ravel Morrison.
This talented 20-year-old has had huge question marks placed over his temperament, with Sir Alex Ferguson effectively giving up on him at Manchester United.
Morrison has turned it all around (for now at least) with an exceptional start to West Ham's season as well as excelling for England Under-21s, scoring twice in their 5-0 win against Lithuania on Tuesday.
Hodgson is looking forward to blending youth and experience in the build-up to Brazil and these emerging youngsters could be part of that mix.
4. The case for the defence
Chelsea's Gary Cahill and Everton's Phil Jagielka have formed a reliable and solid central defensive partnership throughout the qualifying campaign. England conceded just four goals and Cahill and Jagielka move towards Brazil as the undisputed first choices.
They are two dependable, experienced professionals who revel in the dirty work of defending and who have made their names in the Premier League. But how will they cope should they be faced with the world's elite strikers at the World Cup next summer?
No-one should under-estimate the determination of these two exemplary characters to adapt and cope in all circumstances, although there must be a worry about England's overall quality in this position and there is still the feeling they do not possess the strength in depth of the John Terry, Sol Campbell, Rio Ferdinand era.
Manchester United's Chris Smalling and Phil Jones were touted as a future partnership for both club and country, but injuries and a lack of opportunity in their favoured positions means Hodgson is very likely to still be relying on Cahill and Jagielka when he gets to Brazil, injuries permitting.
5. The new dimension
England added new colours to what many regarded as a monochrome style in those final two qualifiers, with Townsend and Baines giving them width, pace, delivery and end product.
Hodgson also used Townsend alongside attackers Rooney, Daniel Sturridge and Danny Welbeck, the latter sacrificing his instincts to play more centrally by helping the team's cause on the left flank.
Although exciting to watch, it occasionally bordered on the reckless. To Hodgson's obvious annoyance Poland's Robert Lewandowski twice caught England wide open from their own corners. It was thrilling but could have been expensive.
The question is would they have been punished by a team of greater quality - namely the sort they could face in Brazil?
The answer is "yes", so Hodgson needs to find the balance between maintaining the attacking impetus that looked so exciting and giving England a more pragmatic slant.
Rooney and Sturridge look set to be the attacking partnership, although the Liverpool striker will be even better when he ditches the occasional over-elaboration, with some of his Fred Astaire-style fancy footwork seeming to confuse him even more than Poland at times on Tuesday. However, he is a very exciting, developing player with natural goalscoring instincts.

With Townsend staking his claim on the right, England lack an obvious natural left-sided midfield player to offer balance. The solution may see James Milner slotting into the space currently occupied by Welbeck. Manchester City's workaholic all-rounder would be the perfect compliment to the attacking forays of Baines, with his willingness to track back increasing the Everton defender's sense of adventure.
Steven Gerrard is an automatic pick as captain in central midfield, so it could be that Michael Carrick's ability to read the game and keep possession puts him in the frame to start alongside him in Brazil.
6. Keeping faith with Hart
Joe Hart's fluctuating form only underscored his status as England's number one goalkeeper by heightening concerns that he has not faced any serious competition.
Hodgson must use the friendlies between now and Brazil to find his understudy, the keeper he can count on should Hart not be available or lose form.
Norwich's John Ruddy, West Bromwich Albion's Ben Foster and Stoke City youngster Jack Butland are all live contenders - but next cab off the rank when Hart is rested should be Celtic's giant Fraser Forster.
Highly regarded in Scotland and magnificent against Barcelona in the Champions League, the Hexham-born 25-year-old must now get his chance to show what he can do.
Hart's performance in the clean sheet against Poland, particularly a vital second-half save from Robert Lewandowski, will have done great things for his confidence.
England's qualification has bought Hodgson time to discover who will be Hart's natural number two (and perhaps even serious rival) in the summer. The manager can be expected to use the forthcoming games wisely.