Premier League clubs to introduce reciprocal price deals for away fans
Last updated on .From the section Football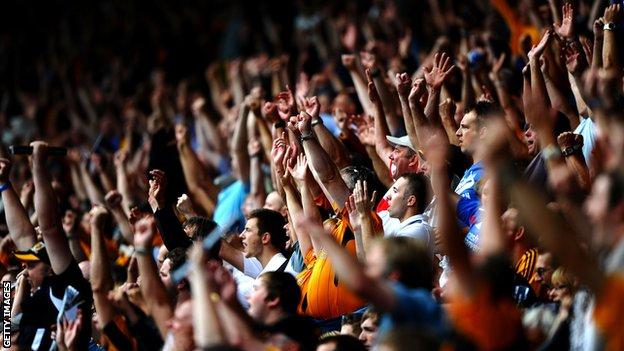 A number of Premier League clubs are introducing reciprocal deals to reduce the price of tickets for away fans.
Newcastle United have agreed deals with West Bromwich Albion and Swansea City, while the Welsh club have a further agreement in place with Hull City.
Magpies finance director John Irving said: "We believe the right way to encourage people to attend is to look at charging reasonable prices."
Premier League clubs were each given £200,000 to subsidise travelling fans.
Swansea fans will pay a reduced price of £20 for adults and £5 for concessions at Hull and Newcastle, with the same prices in place for the return fixtures at the Liberty Stadium.
Travelling supporters from Newcastle and West Brom will both pay £15 for adults and £5 for concessions when their teams face each other.
Swansea vice-chairman Leigh Dineen hopes more agreements can be made.
"I'm glad to see that things have slowly started to gather pace," he said.
"We are in constant dialogue with other clubs in the Premier League and hope to announce additional reciprocal deals over the course of the campaign.
"We are determined to help keep the costs down for travelling supporters; not just for our own loyal fans, but those supporters of other clubs around the country as well."
Away attendances have declined by 10% over the past five seasons and the Football Supporters' Federation has said the cost of tickets is a major concern.
A 2013 BBC study of the costs of football found the average prices of the most expensive season ticket and highest and lowest match-day prices in the Premier League had fallen by up to 5.3%.