World Cup 2014: England will not be seeded in Brazil next summer
Last updated on .From the section Football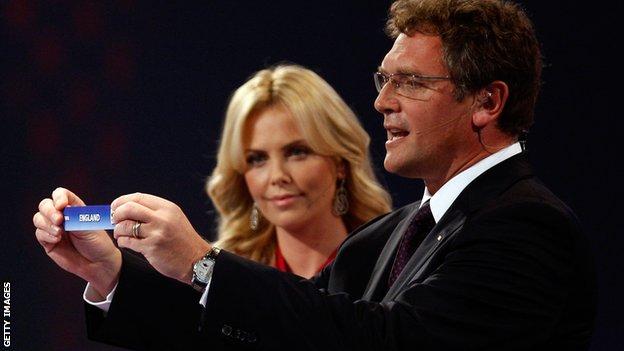 England will not be one of the top eight seeds at next year's World Cup in Brazil after sealing qualification with a 2-0 win over Poland on Tuesday.
Fifa's latest world rankings determined the top seeds for the 2014 tournament.
England who climbed from 17th to 10th, will now have to face one of the top-ranked nations in their group matches.
But boss Roy Hodgson says he is not worried whether his team is "first or second out of the hat" when the draw takes place on 6 December.
The Netherlands, who were runners-up in 2010, and 2006 winners Italy are also unseeded.
But Switzerland, Belgium and Colombia are, following the release of the rankings on Thursday by football's governing body.
Hosts Brazil and the remaining top seven ranked qualifiers will be kept apart in the group stages of next year's tournament.
Those groups will be completed by teams from three different geographical regions.
England will have to face one of Brazil, Spain, Argentina, Germany, Switzerland, Belgium, Colombia and probably Uruguay.
Uruguay's place in Brazil depends on them winning a play-off against Jordan, ranked 70, next month. If they are beaten in the two-legged tie, the Netherlands will take the final seed ahead of Italy.
The rankings' emphasis on recent results rather than teams' record in major tournaments means 2010 World Cup runners-up Netherlands and 2006 winners Italy miss out on being kept apart from the other traditional powerhouses of world football.
Barring a slump down the Fifa standings for any of the three, the Netherlands, Italy and England are likely to be kept apart as high-ranked fellow European nations.
France coach Didier Deschamps, whose side have to win a two-legged play-off to make the finals after finishing second to Spain in their qualifying group, has criticised the system.
"From my point of view it's not very logical,'' said the former Chelsea midfielder.
He added that it was a "double punishment" that his side were in Group I, the only European one with five rather than six teams, meaning they had two fewer matches to earn ranking points.
As well as a seed and an unseeded European qualifier, each of the World Cup groups is likely to be completed by a team from a combined Asia, Oceania and North and Central America pot and one of the unseeded African and South American qualifiers or the lowest-ranked European qualifier.
Spain remain at the top of the rankings, ahead of Germany who leapfrog Argentina to take second spot.
Scotland have climbed 28 places to 35th in the world after beating Croatia and Macedonia in the final two games of their unsuccessful qualification campaign.
Wales are up eight places to 44th in the wake of their 1-1 draw with Belgium, while Northern Ireland drop four places to 90th following their 1-1 draw away to Israel.