Gary Rowett says Burton Albion are making themselves suffer
Last updated on .From the section Football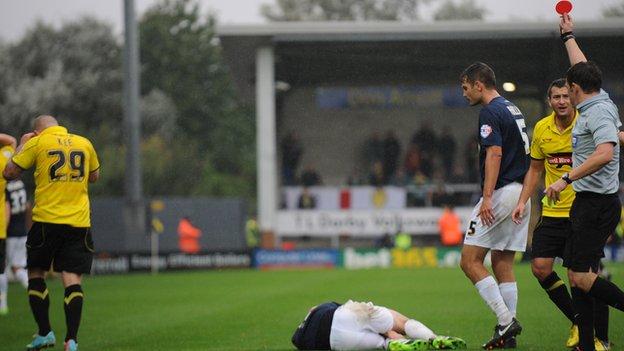 Burton Albion manager Gary Rowett admits his side are suffering from their own poor discipline.
The Brewers have had three players red carded in the last six matches - a run that has seen them win just once.
Rowett fumed that striker Billy Kee's sending off in Saturday's defeat by Southend sums up the problem.
"The red cards have really not helped us. In three of the four games we have lost this season, they were the major factor," Rowett told BBC Radio Derby.
"You can't put it down to bad refereeing. Maybe the first from Ian Sharps is one you could argue was bad refereeing - that was particularly frustrating.
"But then look at Marcus Holness's at Wimbledon, it was sheer stupidity. No manager in the world would legislate for things like that, a player to make that sort of reaction.
"Billy's again was stupid, his first tackle was daft and his second, a minute before half-time, was even more daft."
Rowett dismissed the run of red cards as poor judgement by his players and not a true reflection of the club.
"I don't think there is a huge problem inherent in he side," he said.. "I just think it is some stupidity boiling over with maybe a bit of frustration because we are not winning games that we would like to.
"Billy realised straight away that it's not something we ask of him.
"All we say is work hard and as a striker can you try stop the opposition getting out. We have not said 'Can you dive into tackles that are reckless and unnecessary?'
"In these certain instances in time we need to be more controlled.
"Look at Saturday when there were two yellows in the first few minutes, that should have told everyone not to make any silly challenges."