Illness almost ended Torquay defender Krystian Pearce's career
By Brent Pilnick
BBC South West Sport
Last updated on .From the section Torquay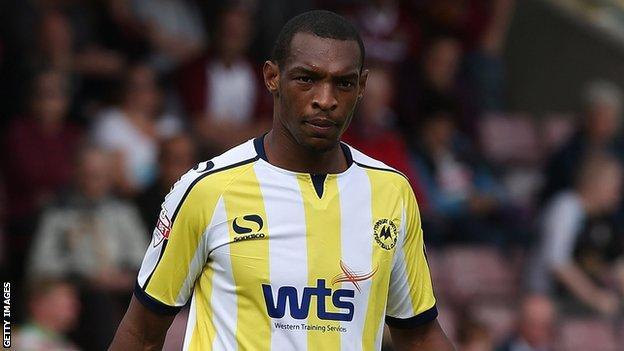 Torquay United centre-back Krystian Pearce says a mystery illness almost ended his career.
The 23-year-old collapsed after his side's and spent four days in hospital as doctors tried to find a cause.
The former Notts County defender has since been given the all-clear.
"The doctor told me at one point that I wasn't going to be able to play and that was a bit nerve-wracking and a scary thought," he told BBC Devon.
Pearce, who still has no idea what caused him to become ill.
"I collapsed on the Thursday morning before training and spent the day in hospital.
"They did a load of checks on my heart because they thought it was a heart problem, but they passed me fit to play and I trained the next day and played on the Saturday.
"Straight after the game I went into the changing room and didn't feel so good.
"I was struggling to breathe, I was really hot and just felt light-headed.
"It was nerve-wracking because I got told I was all-clear and two days later I'm back in hospital.
"They called the ambulance and I spent the next four days in hospital up there hooked up to the monitors for more checks on my heart and stuff."
Doctors were particularly concerned because of Pearce's medical history - he collapsed twice when he was a boy - making doctors fearful that the former Birmingham City trainee had a heart condition.
But his heart is fine, although the incident did make him have to contemplate a premature end to his time as a footballer.
"When someone says your career might be over at just 23 and you're just starting out and all of a sudden you might have to do something different, you think scary thoughts.
"Luckily I got the all-clear to come back and play again.
"It's still a mystery so I'm just trying to eat well and do the right things and keep training."