Puma ends South Africa contract with "immediate effect"
Last updated on .From the section Football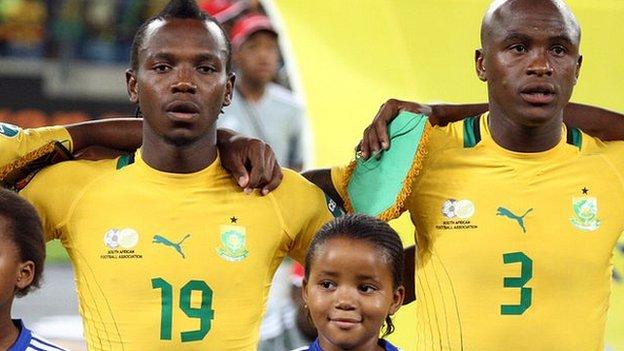 Sportswear giant Puma has ended its association with the South African FA (Safa) following the match-fixing scandal involving the national team.
The news comes two days after banking group Absa ended its six-year association with Bafana Bafana.
In December, a Fifa investigation found 'compelling evidence' that four South Africa friendlies had been fixed prior to their hosting of the 2010 World Cup.
In a statement, Puma announced the deal had ended with "immediate effect".
"Following match fixing allegations made against Safa along with inappropriate responses from within the football organisation (including the suspension of senior officials), PUMA terminated the contract with immediate effect," the press release read.
Former Safa president Kirsten Nematandani, who lost his post in last month's elections, and four fellow officials were suspended in 2012 before being reinstated a month later pending further investigation.
South Africa, which staged the 2013 Africa Cup of Nations earlier this year, has failed to qualify for the 2014 World Cup, so becoming the first hosts to miss the next edition of the tournament in a quarter of a century.
The country's football has been in a steady state of decline since winning the Africa Cup of Nations in 1996, with the side's last actual qualification for the World Cup coming back in 2002.
Yet Puma has blamed the 2010 games against Thailand, Bulgaria, Colombia and Guatemala as the primary reason for ending a deal that began in 2011 and which was expected to run until at least 2018.
"PUMA abides by a code of ethics in all areas of its business operations and expects its partners to adhere to the same values," its statement read.
"PUMA would like to state that with notable exception to the issues in question it enjoyed a good working relationship with SAFA, and wishes them well for the future."
Safa has yet to publicly comment on the matter.