Paul Ince: Blackpool boss said he would 'knock out' fourth official
Last updated on .From the section Football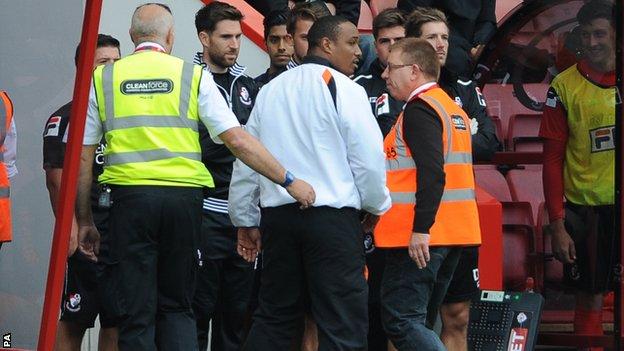 Blackpool boss Paul Ince knows he must now "bite his lip" after the Football Association released their written reasons for his five-match stadium ban.
The FA document says the former England midfielder pushed fourth official Mark Pottage and threatened to "knock him out" before being dragged away.
Matchday stewards also had to restrain assistant manager Alex Rae after he too intimidated the Dorset official.
Rae never made physical contact, but Ince "violently shoved" Pottage before repeatedly shouting his threat, the report stated.
"The bottom line is I won't change who I am," he told BBC Radio Lancashire.
"I'm a passionate guy but sometimes you need someone to point out that you've done wrong and then learn from it."
Despite Blackpool winning the match, Ince had been angered by referee Oliver Langford's decision to send off full-back Jack Robinson and was later dismissed himself after inadvertently hitting a fan with a plastic bottle as he reacted to his side missing a late chance.
The FA said: "We considered the push by Mr Ince on Mr Pottage to be very serious and that whether the provocation was real or perceived, the professional footballer or club official should not lay a hand on the match officials.
"We were, therefore, satisfied that Mr Ince's action in pushing Mr Pottage was deliberate violent conduct."
Ince described the stadium ban as "very harsh" but confirmed he would not be appealing the FA's decision.
He added: "Some of the stuff in the report I admitted - but some of it is completely wrong.
"It could have been prevented, but that doesn't change what I did so I have to learn to bite my lip a bit when I feel aggrieved.
"It's a passionate game and I want my teams to play with passion so this won't take the passion away from me, my staff and my players."