Hammam: Mackay 'owes' Cardiff City for Premier League chance
Last updated on .From the section Cardiff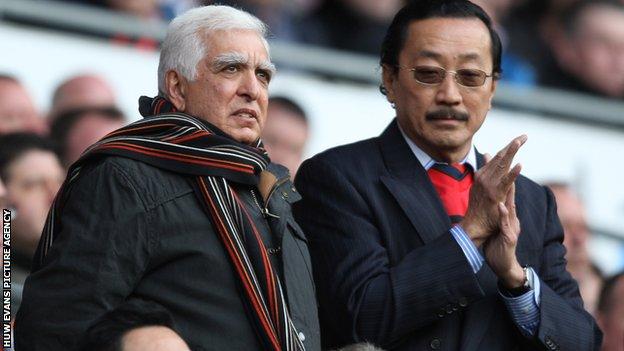 Sam Hammam believes Malky Mackay would not walk out on Cardiff City because he owes the club for giving him the chance to be a Premier League manager.
Mackay was known to be upset at club owner Vincent Tan's decision to axe head of recruitment Iain Moody.
But Hammam, the club's life president and former owner tells the Sport Wales programme the club also owes Mackay.
"Malky knows that he is a gem. He had to be given the chance and he wasn't getting it at Watford," Hammam said.
"He had it here and he owes this club, he owes Vincent Tan, but we also owe him."
Former Watford manager Mackay met the club's board on Monday after the removal of Moody, who has been replaced by 23-year-old Alisher Apsalyamov.
The Kazakh was on work experience at the club in the summer and is a friend of owner Tan's son.
Although Mackay had been left "bemused" and "frustrated" according to his agent Raymond Sparkes, the Scotsman had no intention of stepping down as manager.
In a statement from the Cardiff board on Tuesday, the club said that transfer dealings will be conducted "subject to the manager's final approval".
Hammam oversaw Cardiff's rise from the bottom division to the Championship after buying the club in 2000, relinquishing control six years later to a consortium led by Peter Ridsdale.
But the Lebanese businessman was invited back as honorary life president in the summer after the club finally settled its long-standing debt with the Langston company he was a spokesman for.
Hammam insisted he understood fans' fears about what Tan might decide to do next at Cardiff.
But he said they had to trust in the Malaysian businessman, whose multi-million pound investment in the club helped deliver top-flight football for the first time in 51 years.
"The most important thing is we should see the forest from the trees and put things in perspective," former Wimbledon owner Hammam said.
"By and large Vincent Tan has been an excellent owner of the club... good servant, saved the club, put money in, expanded the stadium.
"He has given us a training ground, stabilised the finances. He has done dozens of great things."
Tan caused consternation among many Cardiff fans during the summer of 2012 after changing the club's colours from blue to red.
Asked whether fans should be worried that Tan might look to re-name the club, Hammam admitted: "Look let's not beat around the bush... this is an issue.
"We're blue and we're red, we're a Bluebird but we're a dragon and so on.
"This needs to be addressed and finalised and made clear to everyone, one way or another."
For the full interview, watch Sport Wales on BBC Two Wales at 19:00 BST on Friday, 18 October.