Arsene Wenger: Arsenal priority is to produce our own players
By David Ornstein
BBC Sport at the Arsenal AGM, Emirates Stadium
Last updated on .From the section Football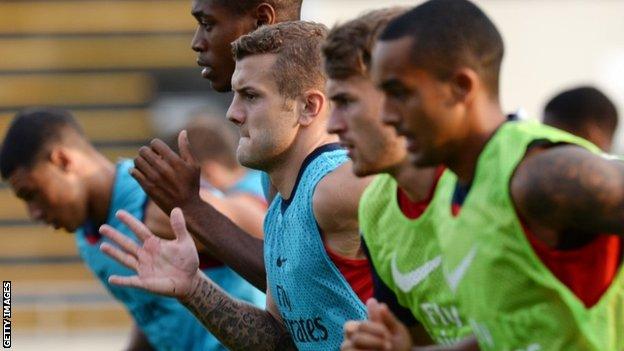 Arsenal manager Arsene Wenger insists the club's priority is to develop their own players, such as Jack Wilshere, rather than make big-money signings.
But Wenger warned that this would not be the start of a new policy.
The Frenchman said: "The future of this club will rely on the quality of the work we do here inside - in developing our players and scouting with quality."
The signing of Ozil eclipsed the £15m the club paid Zenit St Petersburg for Andrey Arshavin in 2009.
Arsenal failed in high-profile attempts to sign Liverpool striker Luis Suarez and Ozil's former Real Madrid team-mate Gonzalo Higuain this summer.
But as well as buying the 24-year-old German, Wenger has also given a Premier League debut to 18-year-old youth team product Serge Gnabry this season - and pointed to other players developed by the club, including Kieran Gibbs, Carl Jenkinson, Alex Oxlade-Chamberlain, Aaron Ramsey, Wojciech Szczesny and Wilshere.
He added: "Of course when it's needed we will put big numbers out and buy the players - but that cannot be the base of the stability of our club."
Speaking to Arsenal shareholders at the club's Annual General Meeting, Wenger expressed his belief that Arsenal will maintain their title challenge.
The Gunners, who are top of the Premier League after seven games, have not lifted a trophy since the 2005 FA Cup and last won the league title a year earlier.
But seven years after moving to the Emirates Stadium and with the boost of a new £150m shirt sponsorship deal, Wenger is confident of ending the wait for silverware.
"We went through a period when we had to be very tight financially, but came out of that with huge stability and now results," Wenger said.
"I believe our future is very positive. The Premier League is very tight this season but I am convinced we have the team, attitude and desire to do it.
"We are in October, we are in a very strong position. At the end of November we will have a much clearer situation of where the strengths of everybody lies in this Premier League."
Wenger said Arsenal's football strategy is focused on three key areas, all of which he believes are imperative if they are to succeed.
"The first level is to continue to defend our style of play, philosophy of play and values - that can only be done by developing our own players.
"The second level of development has to be based on the intelligence of our eye.
"Players who are unknown can become big players here through our connections, through the quality of our scouting and through the quality of what we have seen in them and how they could develop.
"The third part of our ambition is to scout and buy recognised world-class players. This season we have bought Ozil - you don't need any scout to buy Ozil, you just need money."
Arsenal chief executive Ivan Gazidis echoed the sentiments of his manager, insisting the Gunners are leading the way when it comes to play development.
He said: "It's our philosophy to give young players a chance.
"Recent independent analysis for the Premier League showed Arsenal produces more players than any other club in England and we have invested millions in new facilities and staff at Hale End and Colney [academy and training grounds].
"We are now turning our attention to recruiting a top-class new head of academy, who will review all operations on youth development and lead us forward."